What's New? w/ CAM CORNELIUS is part of a series in which MVO: The Voice-Over Guys' checks-in with one of our male voiceover talents to learn more about a recent voiceover project he has produced. Here's what Cam shared with us.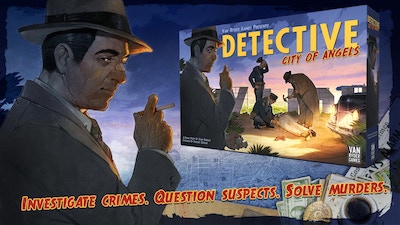 1. You mentioned a really cool voiceover project in your recent MVO: The Voiceover Guys update. Can you talk about who the project was for and where it was heard or seen?
I just voiced the online component of the Detective: City of Angels Board Game by Van Ryder Games.I play the part of a film noir LAPD captain.
2. What made the media production's content interesting from your perspective?
This game is so amazing! Its like traveling back in time to 1940's Los Angeles! Wether its a detective or a newsreel announcer, I always love tackling characters from that era to voice!
3. As the voice talent in the media project, were there any technical or performance challenges during this voiceover recording session?
Not really, it was great fun. I've always been a fan of classic movies from that era, so this was right in my wheelhouse. I had the pleasure of hosting Evan Derrick (the game's designer) in my studio for the session and we had a blast bringing his amazing scripts to life.
4. Is there anything else you would like us to know about this voiceover project?
Check out the KICKSTARTER…the game has BLOWN past it's funding goal, but you can still pre-order one there.
ABOUT MALE VOICE TALENT CAM CORNELIUS
Cam Cornelius is a multi Emmy Award winning & Voice Arts Award nominated Voice Over Actor, Director of Photography, Video Producer and Technology Geek.
Cam grew up in the music industry with his family producing and discovering artists such as Sawyer Brown, Johnny Paycheck, Collin Raye, and Alan Jackson. Learning sound technology at such a young age gave Cam the opportunity while still in high school to be an assistant recording engineer on a music project with several Nashville musicians in Moscow, Russia at the state owned Melodiya Records.   Cam's singing career has included recording a children's album with Sonny "Enos" Shroyer from The Dukes of Hazzard, being a featured performer for the United States World Fair Pavillion, and performing on such shows as TNN's Nashville Now and The Grand Ole Opry.
A veteran of both radio and TV, Cam has been an air-personality for Y107, 107.5 The River, and 102.5 The Party in Nashville as well as a Network Air Personality for the Way-FM Radio Network. While at Clear Channel Radio (now iHeart Media), Cam also served as Public Service Director and started the group's first visual services department serving as Creative Director for the Nashville location.
During his tenure as a TV Photojournalist and Investigative Producer, Cam created stories for WSMV-TV and WZTV-TV in Nashville and NBC Nightly News.
With his own companies, VoiceOverDude.com & CAM Communications, Cam has had the opportunity to work with artists and directors including Diamond Rio, Martina McBride, Keith Urban, Travis Tritt, Mary Chapin Carpenter, Bill Gaither, Mark Lowry, Michael W. Smith, Steve Taylor, Deaton Flanigen, and Spike Lee.
Cam has also had the opportunity to serve as a Director of Photography creating life changing and award winning programming for financial guru Dave Ramsey's online video channel and The Dave Ramsey Show.
From his studio in Nashville, TN, Cam has voiced projects for companies including The Food Network, The CW, Hardee's, Nissan, Onkyo, Amazon.com, Johnson & Johnson, and ExxonMobil. Cam has received several Associated Press Awards, a National Headliner Award, 25 Emmy nominations, 3 Emmy Awards and a Voice Arts Awards nomination. His amateur radio call sign is K1CAM.