1. You mentioned a really cool voiceover project in your recent MVO: The Voiceover Guys update. Can you talk about who the project was for and where it was heard or seen?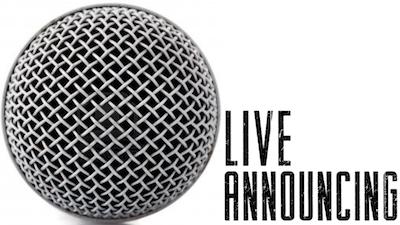 "Tis the season for Live Event announcing, aka, "Voice of God," so called because I am doing a big voice talking to a huge room full of hundreds of people, but never seen. Much of it is awards programming for clients such as AbbVie, IL Farm Bureau, Advisor Group and the ASAE – hence the rush at the end of the year – but I also do a lot of VoG for sales meetings and other corporate events for clients such as Molex, HSBC, and Big Pharma clients.
2. What made the media production's content interesting from your perspective?
Some of these corporate meetings have amazing guest speakers. For example, the ASAE (an association for people who run associations!) had on the founder of Kickstarter, the online fundraising service for business start-ups and charitable causes which has made the world a better place.
Advisor Group featured a guest speaker, Platon, who was a photographer for international leaders and has done covers for Time magazine more than 20 times. He spoke about finding the authentic self in his subjects, really an interesting guy.
3. As the voice talent in the media project, were there any technical or performance challenges during this voiceover recording session?
Much of my Radio/TV work falls in to what I call the "warm and authoritative" read (think banking, health care, higher ed). It's an intimate, close to the mic read, at a level as if I were standing right in front of you, or even almost whispering in your ear. Live Event announcing is the polar opposite of that! I'm now speaking to a room full of people, so I need huge energy. VoG for awards events is mostly excited and friendly but announcing for sales meetings can be – no exaggeration – like announcing a World Wrestling Federation match! It can be quite tiring work, but I really enjoy it.
4. Is there anything else you would like us to know about this voiceover project?
Live Event announcing is a great niche to specialize in, and most talent don't really pursue it. My next step towards increasing this part of my business is to create a specialized Live Event demo. Keep an ear open for it!
ABOUT MALE VOICE TALENT TOM TEST
Tom has been one of the top voice-over talents in the Midwest since 1989. He started my studio "Voices On" in 2003, and has since voiced hundreds of projects from web-based Flash animation to national TV spots to college-level textbook narrations to Corporate Video narrations. He has voiced quite a few Telly (and other) award-winning spots in my career, and has also been a much-in-demand voice-over coach and demo producer.
Tom can provide 24 hour or less turnaround and voice over file delivery service via MP3, WAV, AIFF, or whatever you require. His partial list of clients include: USAA, Shell, Accenture, 1-800-CONTACTS, Mercury Marine, United Airlines, Kraft, Samsung, Snapper/Simplicity Mowers, Eli Lilly, ITT, World Book Encyclopedia, Discover Card, International Trucks, Brightstar, Walgreen's, Morgan Stanley, Allstate, Cox Cable, Kawasaki, and MANY more!
As a voice-over talent, Tom's specialties include his warm yet authoritative read, which has been especially popular with health-care clients, with whom he has voiced several award-winning campaigns. Tom is NOT a radio announcer – he sounds like a REAL person, talking to you, telling you a true story.
He has a broadcast-quality recording studio, equipped with Source Connect and ipDTL for remote recording. He also has access to several low-cost ISDN studios in Chicago.
As an on-camera talent, Tom's ear-prompter ability is what separates him from his competition. His first read is spot-on from the get-go, and he works extremely quickly.