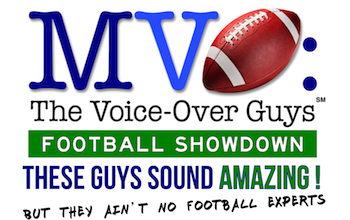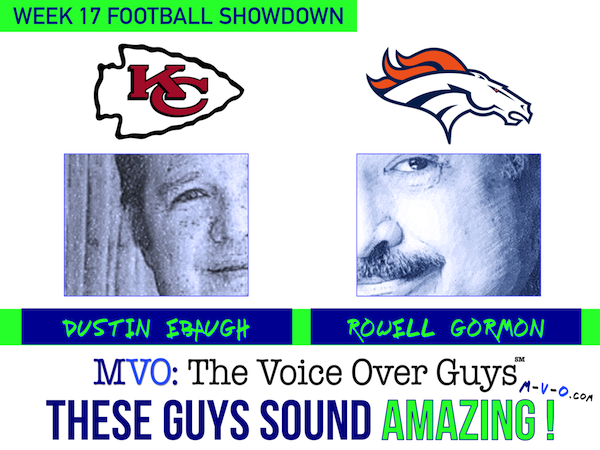 Male Voiceover Talent DUSTIN EBAUGH and Kansas City take on Male Voice Talent ROWELL GORMON and his Denver during NFL Showdown 2017 week 17, the last regular season week of the year.
ABOUT DUSTIN EBAUGH
With over 20 years of experience in the voiceover industry, Dustin Ebaugh's voice has been described as clear, natural, warm, friendly, agreeable, believable and trustworthy. His voice is ideal for narration, commercials, promos and radio and television station imaging.
He takes direction very well and can change delivery according to your needs.
In his professional personal studio, he uses Neumann and Rode microphones, Apogee inputs, Twisted Wave, Adobe Audition, a Focusrite Red 7 and a Blue Robbie tube preamplifier. he can easily do a telephone patch for recording sessions and offers SourceConnect, ipDTL and ISDN.
He has been heard nationally on network television and radio, broadcast cable, MTV and VH-1, on infomercials for Les Mills Pump by Beachbody and on commercials for Niagra Water, Nature Made Vitamins and Rockwell Tools. Dustin is honored to be the radio and television voice of The Harley-Davidson Museum in Milwaukee, Wisconsin. His corporate narration clients include: Ferrari, The United Nations, General Electric, Pepsi, Delta Airlines, UBS, Kraft Foods, The Four Seasons Hotels, UPS, The United States Air Force, Pizza Hut and many others.
ABOUT ROWELL GORMON
Rowell (conveniently rhymes with "role") Gormon is a full-time professional voiceover talent. He provides commercial voices (for TV, radio & web), narration voices and of course, character voices.
Known to many as the "Man of 999 1/2 Voices", Rowell is equally at home doing a relaxed guy-next-door read in one session, then a convincing businessman or senior citizen in the next, shifting to laid-back storyteller, to a toy robot, to a stuffy butler, or an animated light bulb…all before lunch.
Rowell provides full audio editing and production too! Rowell works from his ISDN-equipped studio, making his clients' lives a lot easier as "Mr. Warm and Friendly Voice…with Character".
Rowell is also available for quick turnaround voiceover projects like e-learning, documentary narration, animation, explainer videos as well as audiobooks.