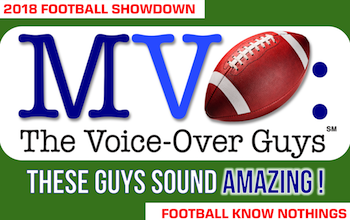 Male Voiceover Talent DOUG TURKEL and Miami takes on Male Voice Talent CAM CORNELIUS and Green Bay during NFL Showdown 2018 week 10.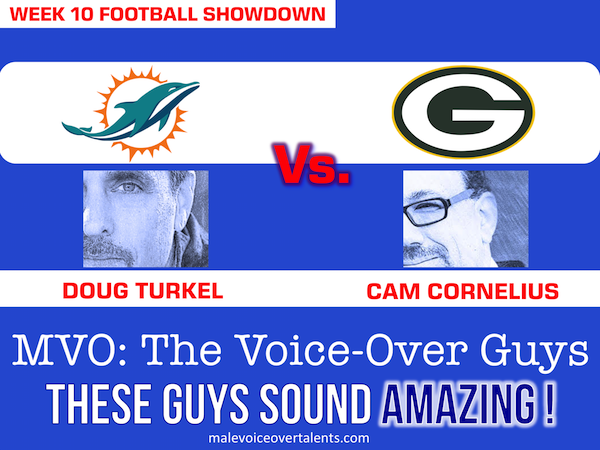 ABOUT MALE VOICE TALENT DOUG TURKEL
You know how every time you show up at a cocktail party, there's always that one beefy guy with the "Monster Truck" voice who hears what you do and explains how everyone tells him he should do voiceovers?
Doug's not that guy.
Doug's the guy people go to when they specifically don't want that guy. He's like your brother-in-law (the one you like), only with a Pro Tools based, ISDN-connected studio and some sweet Neumann and Sennheiser microphones. Over the years, he's quietly become the voice behind more than 10,000 spots (really!) and a couple of TV networks.
He's the Promo voice of HSN – The Home Shopping Network, he's narrated hour-long documentaries and shows for Discovery Channel and The Travel Channel, and has recently done national spots for KFC, Kellogg's and T-Mobile.
ABOUT MALE VOICE TALENT CAM CORNELIUS
Cam Cornelius is a multi Emmy Award winning & Voice Arts Award nominated Voice Over Actor, Director of Photography, Video Producer and Technology Geek.
Cam grew up in the music industry with his family producing and discovering artists such as Sawyer Brown, Johnny Paycheck, Collin Raye, and Alan Jackson. Learning sound technology at such a young age gave Cam the opportunity while still in high school to be an assistant recording engineer on a music project with several Nashville musicians in Moscow, Russia at the state owned Melodiya Records.   Cam's singing career has included recording a children's album with Sonny "Enos" Shroyer from The Dukes of Hazzard, being a featured performer for the United States World Fair Pavillion, and performing on such shows as TNN's Nashville Now and The Grand Ole Opry.
A veteran of both radio and TV, Cam has been an air-personality for Y107, 107.5 The River, and 102.5 The Party in Nashville as well as a Network Air Personality for the Way-FM Radio Network. While at Clear Channel Radio (now iHeart Media), Cam also served as Public Service Director and started the group's first visual services department serving as Creative Director for the Nashville location.
During his tenure as a TV Photojournalist and Investigative Producer, Cam created stories for WSMV-TV and WZTV-TV in Nashville and NBC Nightly News.
With his own companies, VoiceOverDude.com & CAM Communications, Cam has had the opportunity to work with artists and directors including Diamond Rio, Martina McBride, Keith Urban, Travis Tritt, Mary Chapin Carpenter, Bill Gaither, Mark Lowry, Michael W. Smith, Steve Taylor, Deaton Flanigen, and Spike Lee.
Cam has also had the opportunity to serve as a Director of Photography creating life changing and award winning programming for financial guru Dave Ramsey's online video channel and The Dave Ramsey Show.
From his studio in Nashville, TN, Cam has voiced projects for companies including The Food Network, The CW, Hardee's, Nissan, Onkyo, Amazon.com, Johnson & Johnson, and ExxonMobil. Cam has received several Associated Press Awards, a National Headliner Award, 25 Emmy nominations, 3 Emmy Awards and a Voice Arts Awards nomination. His amateur radio call sign is K1CAM.