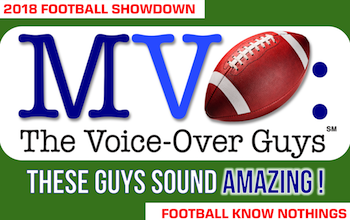 Male Voiceover Talent CHUCK DAVIS and New Orleans takes on Male Voice Talent DAN FRIEDMAN and Tampa Bay during NFL Showdown 2018 week 14.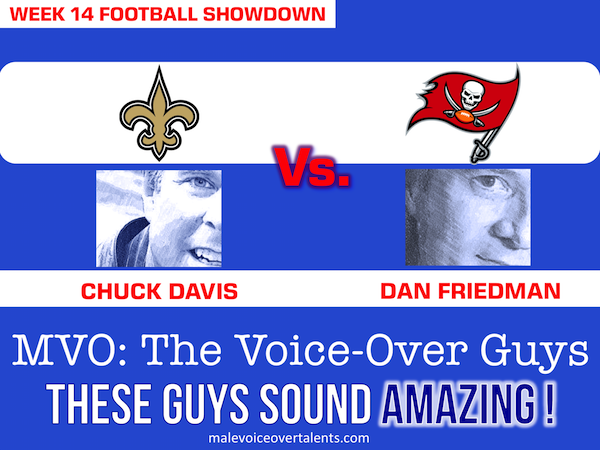 ABOUT MALE VOICE TALENT CHUCK DAVIS
"I come from the same place your customers do. A family, a home…a real life. Let me tell 'em about your stuff! I've found it's really pretty good!"
Chuck is a real, straight ahead performer with a wry edge, a wink if you will. No announcers here….unless you really want one. In that case he'll hold a quick séance and channel one for you. Chuck's career so far has led him to perform for national TV campaigns for the likes of Prevagen (Quincy Bio Science), Blue Cross Blue Shield "Medicare Advance" (four years running) Osteo Bi-Flex, Verizon Wireless, WORX Air, The US Dept of Homeland Security, Hasbro and Playskool, He's the ongoing regional voice for scores of clients including Haynes Furniture in Virginia, The Vision Automotive Group in Rochester and the Finger Lakes region of New York, The Cartown Auto Group in Alabama and Kentucky and many more!
ABOUT MALE VOICE TALENT DAN FRIEDMAN
Dan lives in the beautiful mountains of Asheville, NC and is a husband and father of 2 boys. He attended five universities and had three majors before being introduced to audio engineering in 1994. Realizing his career dream, he ended his educational journey at The Recording Workshop in Chillicothe, Ohio finishing among the top 5 in his class.
With over a decade in the voiceover industry, he has produced, directed or provided his voice to thousands of audio productions.
In 2010 he published SOUND ADVICE- Voiceover From An Audio Engineer's Perspective. A first of its kind in the industry, the book covers audio engineering and studio session etiquette as it relates directly to voiceover talent. He continues to write a popular blog at his website: SOUND4VO.com. His ability to simplify often complex recording and audio concepts is unmatched in the voiceover industry.
Dan was chosen to be among the top 10 "Most Influential Voice-Over Writers in 2011" in a Voice123 online survey. He is a home studio coach with Voicebank and Edge Studios and is also a voiceover teacher and coach for the Screen Artists Co-op in Asheville, NC.
Dan's Sound4VO studio is fully-equipped to provide audio recording, editing, mixing and full-production for radio, television, web, e-learning and corporate presentations. Other services include voiceover, copy-editing, talent direction, talent training and coaching. With a broad selection of microphones, multiple pairs of studio monitors, custom acoustic treatment, phone patch and based around the world famous Universal Audio Apollo Interface, Sound4VO studios offers the very best in professional audio production and sound.
Dan Friedman is an accomplished engineer, producer, director and author. He is also a successful voiceover talent and has been heard on hundreds of local and regional television and radio campaigns as well as many corporate narrations. He has been the national voice for Moe's Southwest Grill, Crowne Plaza Hotels and Hulu Plus. Other recent clients include: WalMart, Hardees, IBM, McDonald's and many more.
From blue-collar to red carpet. Hip, edgy and energetic. Laid-back, cool and conversational. Dan Friedman has a sound and style that delivers.