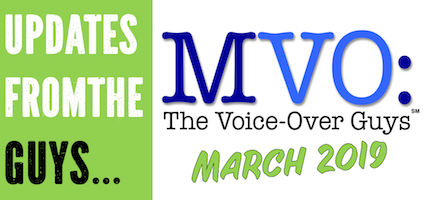 It's time for the MVO: The Voiceover Guys Spring 2019 Update. A quick trip around the horn to learn about the new voiceover projects that our male voice talents have been creating for media producers around the globe. Let's get started!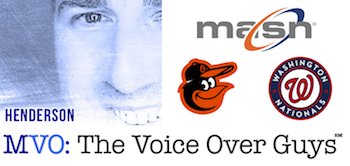 STEVE HENDERSON – Our guy Steve is now the promotional voice of the Inspiration Network, a nationwide TV Network serving more than 78M households, with a lineup of exclusive and original series, timeless Westerns, action-filled dramas, and films focused on adventure and heroic characters. He also voiced a couple of imaging spots for the Mid-Atlantic Sports Network, regional featuring MLB games for the Washington Nationals and Baltimore Orioles. He also did live announcing for the NASCAR Hall of Fame and for Intel Corp at CES.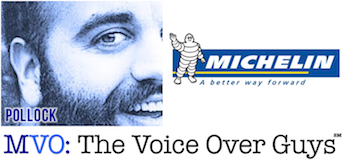 BRANDON POLLOCK – Top tire manufacturer Michelin Tire called on Brandon to voice not one but new narration projects. Meanwhile, 80-store strong car wash chain Autobell secured Brandon's services as the voice talent of their new regional radio commercial. Finally, Brandon is the national commercial voiceover for spots running for Purple Mattress and ForHims.com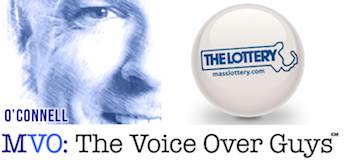 PETER K. O'CONNELL – Lots of radio work for Mr. O'Connell. Peter voiced the radio concert campaign for former lead singer of Styx, Dennis DeYoung's presentation of Dennis DeYoung: The Grand Illusion 40th Anniversary Album Tour at the MGM Grand Detroit. He was also the voice talent for the Massachusetts State Lottery's Holiday Fatigue radio campaign. And Peter is now the radio imaging voice of Catholic 540-AM • Divine Mercy Radio, WETC in Raleigh, NC.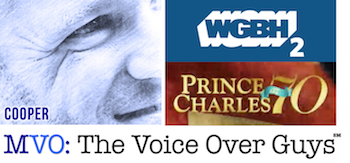 MIKE COOPER – It has been a very promotional time for Mike — TV promotion, that is! WGBH in Boston called on Mike as their promo voice for a Sunday night program block promoting the shows Prince Charles at 70 and Masterpiece: King Charles III. He has begun year 2 of voicing promos for Love Nature and Makeful in Asia.Mike has also begun voicing a third season of Air Warriors for the Smithsonian Channel, following its recent launch in the UK..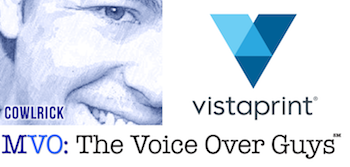 MATT COWLRICK –  Matt has recently been the poster boy for national commercial voiceover talent. The small business marketing company Vistaprint secured Matt as the voiceover talent their recent national TV commercial. Generac Generators also kicked off a national TV campaign with Matt as the voice talent. When TD Cashback Visa Card launched it's recent national television advertising campaign, they called on Matt Cowlrick for that as well.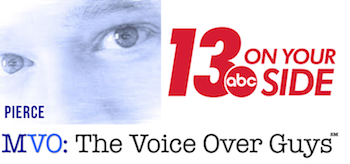 CHADD PIERCE – New to MVO: The Voiceover Guys, Chadd is the station voice for WZZM-TV in Grand Rapids, MI. He also does station voiceover work Alpha Media stations. Finally, in addition to recently voicing a regional Chevy TV spot, Chadd has also narrated a product demo video for BASF/Revysol.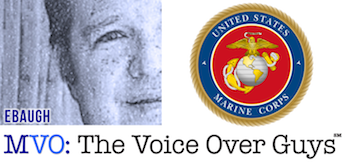 DUSTIN EBAUGH – They may be looking for A Few Good Men but for their national television commercial and web spots, the United States Marine Corps called on just one voice talent: Dustin Ebaugh. Dustin also did IVR phone work for Showtime and regional radios spots for the Capriotti's Restaurant chain.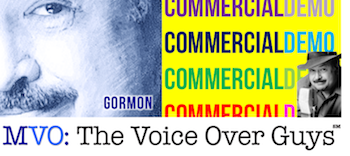 ROWELL GORMON – Even though he is one of the most in demand editors for long-form narration and award winning audiobooks, Rowell is equally in demand as a character voice actor and as a commercial voice actor. To that end, Rowell spent sometime recently producing an updated commercial voiceover demo which you can hear on his page – click on his name to get yourself there.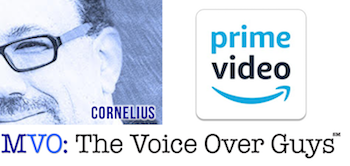 CAM CORNELIUS – No doubt you've heard about the multi-EMMY® Award winning Amazon Prime Video series The Marvelous Mrs. Maisel. But what you might not have known was that part of the promotion for that award winning series came from the voiceover studio of MVO's Cam Cornelius. Cam was the "old time announcer" voice for one of the series' well received promos.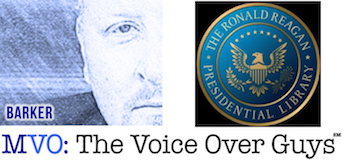 ROBERT "BO" BARKER – Bo was chosen to be a narrator within an interactive exhibit opening in April at the Ronald Reagan Presidential Library as well as George Washington's Mount Vernon Estate. Bo is also the voice of a HCB Center Console Yachts regional TV spot airing throughout Florida and up and down eastern coast in various markets TV markets. Bo is also doing radio station imaging work that can be heard on stations including WYYX-FM (97X), Panama City, FL, WCCO-AM in Minneapolis, WPHT Talk Radio 1210 AM Philadelphia, as well as WFMX, 107.9 The Mix, Augusta, Maine.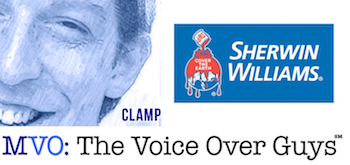 JAMES CLAMP – James has been busy as always with domestic and international voiceover work. He recently voiced a TV spot for financial information and media services giant Bloomberg. He also narrated a training video for ING. James can also be heard on a new TV commercial for Sherwin Williams Paint.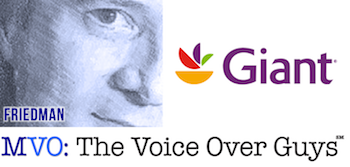 DAN FRIEDMAN – From his Asheville, NC studio, Dan recently voiced a radio spot for Giant, a grocery store chain with 169 stores in 5 states. He also served as the commercial voice talent for a series of radio spots for Prime Motor Group. Dan is now the television voice talent for Carolina Hemp Company, a retail hemp store and wholesale distributor. Lastly, when you visit the Alamo in San Antonio, TX, listen for Dan's character voice narration on an interactive display there.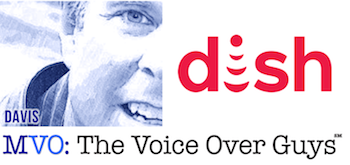 CHUCK DAVIS– You'll hear Chuck nationally as the voice of a new television advertising campaign for Dish Network. He's also the web voice for two financial services clients including Credit One Bank and also First Command Bank. Finally for those of you in Kentucky, you can hear Chuck on TV & Radio spots for The Red Mile Gaming & Racing in Lexington, KY.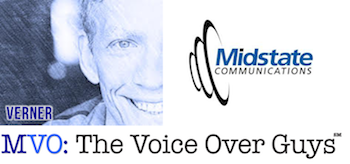 ADAM VERNER – Adam may be new to MVO but he is very experienced in audio books…he just completed recording his 400th audio book (entitled Luna: Moon Rising)! Adam has also recently voiced a new TV commercial for telecommunications technology company Midstate Communications. He has also finished production on a scientific narration on our solar system.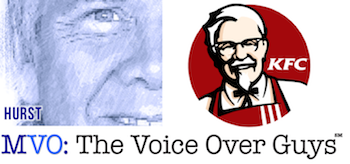 DAN HURST – Not sure if it's considered "Finger Lickin' Good in Britain but Dan is the voice for a new KFC campaign in the UK. Dan also continues to be a top narrator for eLearning and Corporate Training projects, often pulling double duty as both the English and Spanish narrator. Dan also reports his son Eric and his daughter Mona have been recording VO as well!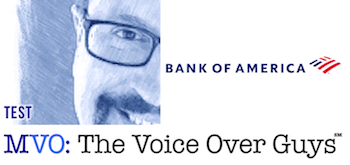 TOM TEST – Next time you're at the gas pump and you see a commercial for Bank of America, that's likely Tom Test's voice you'll hear. On the web, you can hear Tom's voice on spots for Callaway Golf, General Motors, Rent-A-Center and Sierra Trading Post. He was also the live announcer for a recent event for NADA: National Automobile Dealers Association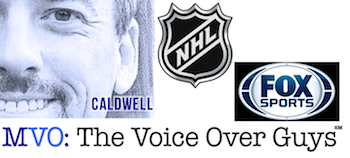 SEAN CALDWELL – Get ready hockey fans because Sean will be voicing the 2019 NHL playoff promos for Fox Sports. And as some hockey players will be on the golf course sooner than others (ahem, Buffalo Sabres), it will a nice transition to mention that Mr. Caldwell also narrated another cool PGA Tour Sunday show broadcast nationally on CBS. And even though PGA prize money is high, some golfers like to pay with credit instead of cash and they may use their Marriott Rewards Card after they heard a commercial for that brand voiced by Sean. Sometimes these transitions just write themselves.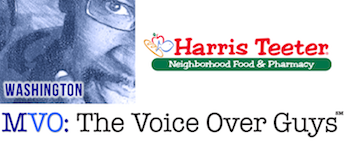 GEORGE WASHINGTON, III – George was live and not live for some of his recent voiceover work including his 3-day live announcing job in Nashville, TN for health care advisor group ASCEND. Grocery chain Harris Teeter wanted their announcer pre-recorded and called on George for those duties at their awards banquet. The U.S. Justice Department's Drug Enforcement Administration (DEA) produced some radio commercial recently voiced by George. And when Intel need a narration done for a presentation to NFL Coaches, George carried the ball, er, microphone, uh…he recorded the narration.