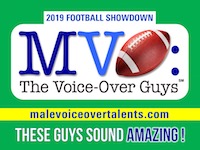 Well it's beginning of Super Bowl Weekend and Super Bowl LIV where people get very excited for the parties and commercials.
Oh yes, there's also a football game.
There seems to be a decidedly AFC leaning towards the football picks of our Voice-Over Guys. All but 4 of our male voice talents are picking the Chiefs to win.
Thems that bets on the game are also (slightly) favoring Kansas City.
At any rate here are the MVO picks:
Counting on Kansas City to be Super Bowl Champions:
DAN HURST
DARRELL BROWN
ANDY BARNETT
STEVE HENDERSON
MATT COWLRICK
DUSTIN EBAUGH
BRANDON POLLOCK
CAM CORNELIUS
PETER K. O'CONNELL
DAN FRIEDMAN
GEORGE WASHINGTON III
ROBERT "BO" BARKER
TOM TEST
CHUCK DAVIS
Counting on San Francisco to be Super Bowl Champions:
ROWELL GORMON
JAMES CLAMP
SEAN CALDWELL
MIKE COOPER