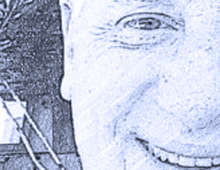 On December 26, 2018, professional voice talent Patrick J. Sweeney died from non-Hodgkins Lymphoma. At age 59, among his many family and friends, Pat left behind his wife Leann and his sons Jason and Dylan.
That is Pat Sweeney's brief obituary but let me tell you, as one of Pat's many friends (inside and outside of voiceover) he was so much more special than even dozens of pages in a newspaper could ever capture.
We were so pleased and honored to have Pat as a voice talent within MVO: The Voiceover Guys. We wanted to take a minute just to share a few memories of our friend.
Certainly his family could tell us many wonderful stories about Pat's life.  How he helped people, made them laugh, boosted their spirits and just made things a little better.
I know he could do this for his family because I know for a fact he did it for his voiceover family…people in our industry who connected with Pat across the globe…seeking his advice, insight or just the chance to speak with him. He was a man of infinite energy, generous with time and wisdom.
One example: Pat didn't like that there wasn't a get together of professional voice talents in Toronto. So, with voice talent Jodi Krangle, he created one. Every few months, Pat would bring the group together – everyone was welcome to network, share stories and talk business. He loved to connect people and he was great at. It was a uniquely positive experience for everyone who attended.
With his smooth voice, Pat was at awesome at encouraging young voice talents as he was at the art of voiceover itself. He was honest with them, fair and always available to help. He had a great gift that way and he was more than happy to share.
Whether he was voicing commercials, narrations (especially medically narrations) or character voices, Pat Sweeney was always excellent to work with, serving his clients with great voice work and a service based attitude. He was loyal to his clients but even more amazingly, they were loyal to him. Again, a great gift.
While it is certainly immeasurably hard for his family at this time (and we are praying for ALL of them) we at MVO: The Voiceover Guys are also deeply saddened for the lose of our peer and friend Pat.
We ask that if you come across this page, please take a few quiet moments to pray his wonderful wife, sons and all his family. Pat would want that…and then he would want us to move forward.
We will, but we will never forget our great pal Pat.
– Peter K. O'Connell
For those who would like to participate, donations can be made to the Society of St. Vincent de Paul OLS, or a charity of your choice in Pat's name.