What's New With ADAM VERNER Fall 2019 is part of a series in which MVO: The Voice-Over Guys checks-in with one of our male voiceover talents to learn more about a recent media project he has voiced. Here's what Adam shared with us.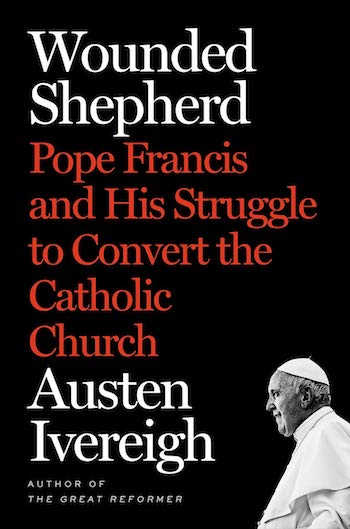 1. You mentioned a really cool voiceover project in your recent MVO: The Voiceover Guys update. Can you talk about who the project was for and where it was heard or seen?
I was booked by Macmillan Publishers to serve as the audiobook narrator for Austen Ivereigh's upcoming new book Wounded Shepherd: Pope Francis and His Struggle to Convert the Catholic Church. It'll be out in November. This project was my first book recorded for Macmillan, one of the "Big 5" publishers in NYC.
2. What made the media production's content interesting from your perspective?
It was interesting to read an account of the new Pope from an international perspective – the author is British and covers Catholicism all over the world.
3. As the voice talent in the media project, were there any technical or performance challenges during this voiceover recording session?
After almost 450 audio books that I have narrated over the years, Wounded Shepherd: Pope Francis and His Struggle to Convert the Catholic Church was second only to one other audiobook in terms of the in-depth amount of pre-production I had to complete. There were soooo many difficult name pronunciations to work through and perfect in this book….and the Latin names! O mihi in caelum!!! 😉
4. Is there anything else you would like us to know about this voiceover project?
It was a fascinating read and think readers and audiobook lovers will really enjoy the story.
ABOUT MALE VOICEOVER TALENT ADAM VERNER
Adam has been working in the VO industry since 2003, voicing thousands of jobs for clients all over the world. He's also recorded over 400 audio books for publishers and authors large and small. He's a classicaly trained actor holding his MFA from the Chicago College of the Performing Arts at Roosevelt University. He works out of his professional-grade studio in the beautiful state of Colorado..