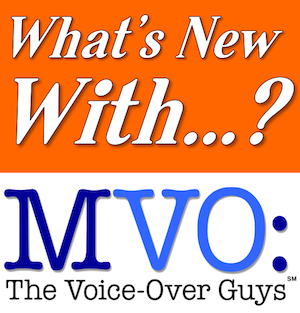 What's New With TOM TEST Fall 2022 is part of a series in which MVO: The Voice-Over Guys checks-in with one of our male voiceover talents to learn more about a recent media project he has voiced. Here's what Tom shared with us.

1. You mentioned a really cool voiceover project in your recent MVO: The Voiceover Guys update. Can you talk about who the project was for and where it was heard or seen?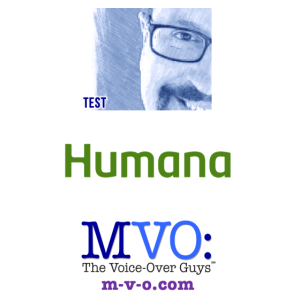 It was an Explainer video for Humana, intended to "excite a corporate audience of Insurance Sales agents to sell in-home services."
2. What made the media production's content interesting from your perspective?
I'm striving to make my reads more conversational, and the specs for this project asked for: "Authentic and genuine. "Experience-sharing vibes from a real person". Approachable, kind, confident, warm, not too "announcer-like", conversational, friendly." So this is exactly the sort of work I want to do more of.
3. As the voice talent in the media project, were there any technical or performance challenges during this voiceover recording session?
YES! I had 2 creatives listening in along with 2 members of the end client, all on a crummy phone patch. Lots of cooks in the kitchen with their own PoV and opinions. I'm versatile though, and was able to record 3 distinct reads (all of which were my own interpretation) for them to argue over in post. Fortunately they liked everything I did, so it was a matter of which read they could agree upon.
4. Is this project's category of voiceover work something you do a lot or do you have another voiceover specialty?
Yes, Health Care clients have always seemed to appreciate my "warm and authoritative" delivery. My voice has been described as "soothing" by a number of people, which is a good thing when trying to persuade someone to trust you with their health and well-being.
ABOUT TOM TEST
Tom Test has been one of the top voice-over talents in the Midwest since 1989. He created his "Hi-Fi, Sci-Fi, Broadcast-quality studio" in 2003, and has since voiced hundreds of projects from Explainer videos to national TV spots to eLearning to Corporate Image narrations. Tom has voiced quite a few Telly- and other industry award-winning spots in his career, and has also been a much-in-demand voice-over coach and demo producer.
Tom can provide 12 hours or less turnaround and is equipped with Source Connect Standard for remote recording. He also has access to several low-cost ISDN studios in Chicago. Tom's partial list of clients include a who's who of the Fortune 1000: Blue Cross/Blue Shield, USAA, Xfinity, Coca-Cola, Shell, Accenture, GE, Boeing, United Airlines, Kraft, Samsung, Snapper/Simplicity Mowers, Eli Lilly, World Book Encyclopedia, Mercury Marine, Walgreen's, Morgan Stanley, Allstate, Kawasaki, and MANY more!
Tom's specialties include his warm, authoritative read – especially popular with health-care clients, with whom he has voiced several award-winning campaigns. Tom is *not* a radio announcer – he sounds like a REAL person, talking to you, telling you a true story. His first read is spot-on from the get-go, and he works extremely quickly, being dubbed by several clients as "Two Take Tom."