Audiobook Voiceover
We all love a good story. Even better, we love a good story teller.
When we were children, all of us had a parent, sibling, aunt or even babysitter who could take words off the printed page and make them come alive in our mind's eye.
20 of those impressionable children, who had such great story tellers in their lives, grew-up to become the members of MVO: The Voice-Over Guys. Now THEY, amazing voice actors all, are the great story tellers for fiction and non-fiction, biographies and science fiction, for how-to's and where are they nows.
The audiobook stories, as told by our male audiobook narrators, of where we've been, where we are and where we can go. The power of the printed word matched with the power of the male voice.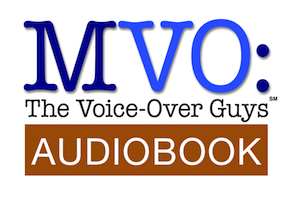 No matter what genre of books you need narrated, MVO: The Voice-Over Guys are ready make your book sound amazing!
In addition to listening to each file, you can also download the audiobook sample to your own computer OR audition some or all the talents on the malevoiceovertalents.com web site by clicking here.
Audiobook Voice-Over Demos