It's Movember 2017 Day 21 here at MVO: The Voice-Over Guys. Our guys are all pretty thankful that they're healthy!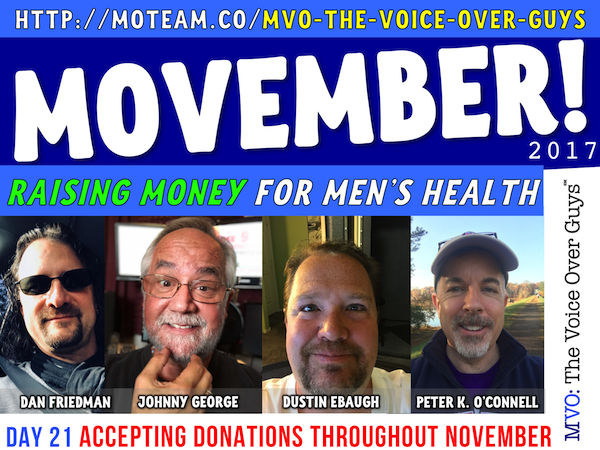 Not all men are as fortunate, health-wise, as our team…which is why we do this every year anyway. Prostate Cancer, Testicular Cancer, Mental Health and Suicide Prevention are difficult things for guys to talk about…some might say embarrassing (although it should not be seen that way AT ALL).
MVO: The Voice-Over Guys participate in Movember so that better treatment and even cures can help make next year's Thanksgiving a happier and healthier one for men and their families in 2018.
From PETER, DUSTIN, JOHNNY and DAN – thank you for your donation.
Here are the links to where you can donate.
If you would like to donate to Movember via  DAN FRIEDMAN: please click here
If you would like to donate to Movember via JOHNNY GEORGE: please click here
If you would like to donate to Movember via DUSTIN EBAUGH: please click here
If you would like to donate to Movember via PETER K. O'CONNELL: please click here
If you would like to make one SINGLE TEAM DONATION, split among all the fellows: please click here
There is no real contest, just bragging rights as all the money goes straight to the Movember Foundation, the only global charity focused solely on men's health, funding over 1,200 innovative projects across 21 countries. To date, the Foundation has raised $769M USD for men's health programs supporting these critical areas: prostate cancer, testicular cancer, mental health and suicide prevention.
Thank you for your support.
MVO THE VOICE-OVER GUYS' MOVEMBER SPOTLIGHT: Dan Friedman
Dan lives in the beautiful mountains of Asheville, NC and is a husband and father of 2 boys. He attended five universities and had three majors before being introduced to audio engineering in 1994. Realizing his career dream, he ended his educational journey at The Recording Workshop in Chillicothe, Ohio finishing among the top 5 in his class.
With over a decade in the voiceover industry, he has produced, directed or provided his voice to thousands of audio productions.
In 2010 he published SOUND ADVICE- Voiceover From An Audio Engineer's Perspective. A first of its kind in the industry, the book covers audio engineering and studio session etiquette as it relates directly to voiceover talent. He continues to write a popular blog at his website: SOUND4VO.com. His ability to simplify often complex recording and audio concepts is unmatched in the voiceover industry.
Dan was chosen to be among the top 10 "Most Influential Voice-Over Writers in 2011" in a Voice123 online survey. He is a home studio coach with Voicebank and Edge Studios and is also a voiceover teacher and coach for the Screen Artists Co-op in Asheville, NC.
Dan's Sound4VO studio is fully-equipped to provide audio recording, editing, mixing and full-production for radio, television, web, e-learning and corporate presentations. Other services include voiceover, copy-editing, talent direction, talent training and coaching. With a broad selection of microphones, multiple pairs of studio monitors, custom acoustic treatment, phone patch and based around the world famous Universal Audio Apollo Interface, Sound4VO studios offers the very best in professional audio production and sound.
Dan Friedman is an accomplished engineer, producer, director and author. He is also a successful voiceover talent and has been heard on hundreds of local and regional television and radio campaigns as well as many corporate narrations. He has been the national voice for Moe's Southwest Grill, Crowne Plaza Hotels and Hulu Plus. Other recent clients include: WalMart, Hardees, IBM, McDonald's and many more.
From blue-collar to red carpet. Hip, edgy and energetic. Laid-back, cool and conversational. Dan Friedman has a sound and style that delivers.