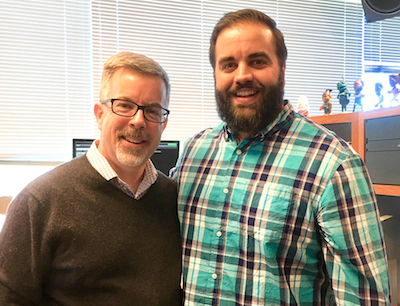 Raleigh-based voiceover talent and MVO: The Voiceover Guys' member PETER K. O'CONNELL happened to be in Charlotte, NC this week .
Charlotte-based voiceover talent and MVO: The Voiceover Guys' member BRANDON POLLOCK happened to also be in Charlotte because, well… he lives there.
So the voice talents (and old radio guys too) had a fun meeting in the Gem City to talk about both businesses (radio and voiceover).
Much fun was had by both.
ABOUT MALE VOICE TALENT PETER K. O'CONNELL
Not many people find their life's calling when they are only 5 years old.
Well, I did.
It was 1969 and I was in kindergarten.
Our saintly teacher, Sister Donna Marie, took our class on a tour of a radio station, WEBR-AM in my hometown of Buffalo, NY. I was mostly oblivious to the goings on around me at the time but when I walked into that radio station control room…everything changed.
Everything.
I don't know if a light bulb went off for me or if my 5-year-old hand inadvertently touched a transmitter wire in WEBR's studio (pictured), but I knew instantly from that point forward my life would always include a microphone.
And it has.
Only later did I learn my Father was a New York State Oratory Champion in high school (seriously, he was an amazing public speaker) and my Mother had long wanted to work in broadcasting (at a time when women didn't really do that).
In other words, I was genetically predisposed to having some kind of media career.
In high school, I secured the first-ever radio station internship. My college in Dayton, Ohio owned WVUD-FM, a professionally managed 50,000-watt radio station, where I was on-air in my freshman year, leaving in my senior year with the #1 rated show on Saturday nights.
Serving also as Production Manager there, I honed my talent voicing commercials, promos and doing live event announcing. Clients loved working with me and would seek me out for their projects.
I've been getting return (and many new) voiceover clients ever since. They enjoy working with me at my state of the art voiceover studio in Raleigh, NC., the area where I now make my home with my wife and children.
General Electric, Kraft Foods, IBM and Duracell Batteries are just a few of the many internationally known brands I've been very fortunate to voice for — as well as hundreds of great regional and local brands too.
It continues to be a fun career.
When you use audio in your marketing, I'm the voiceover guy to contact.
ABOUT MALE VOICE TALENT BRANDON POLLOCK
Since Brandon began his voiceover career in 2011, he's been trusted by companies all over the world to voice their projects ranging from commercials, industrial narrations, eLearning, explainer videos and more.
Brandon believes in getting it right and enjoys taking direction to deliver exactly what you're looking for.
He currently lives in Charlotte, North Carolina with his Wife, Lauren, and their two daughters Brynley and Ella Claire.