Introducing MVO's 2018 Movember Team! Oh yes, it IS that time of year again.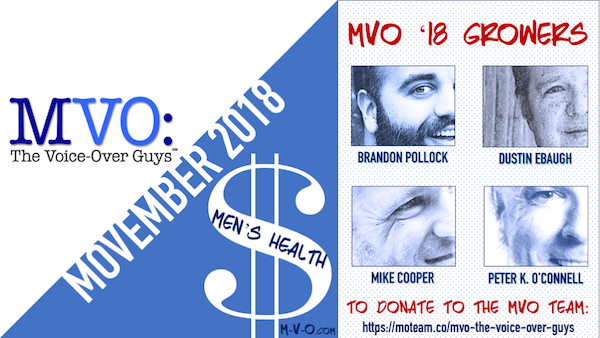 It is the pleasure of MVO: The Voice-Over Guys to introduce this year's Movember team. It is worth noting that the state of North Carolina is represented by 3 of the 4 growers this year!
New to the team this year are: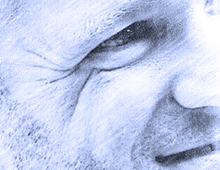 MIKE COOPER – based in Asheville, NC, Mike not new to the voice over work but somewhat new to the US as a new United States citizen having immigrated from the U.K. The voice of numerous shows for A&E, HISTORY and National Geographic in the UK – as well as being heard globally for a decade on the BBC World Service – Mike has been called a "one-take wonder", and loves bringing his wit and humour into the booth (when appropriate!) to play tongue-in-cheek, as well as straight/dramatic British.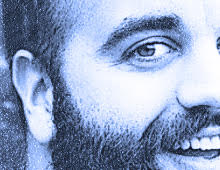 BRANDON POLLOCK – Charlotte, NC is the headquarters for Brandon and his family where he not only maintains his voiceover business but also works as a respected radio broadcaster as well. Since Brandon began his voiceover career in 2011, he's been trusted by companies all over the world to voice their projects ranging from commercials, industrial narrations, eLearning, explainer videos and more.
Returning growers and champion fundraisers are: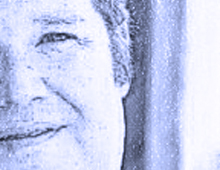 DUSTIN EBAUGH – Representing the west coast of the United States on our MVO Movember team, Dustin's well respected voiceover business is based in Las Vegas Nevada. He has been heard nationally on network television and radio, broadcast cable, MTV and VH-1, on infomercials for Les Mills Pump by Beachbody and on commercials for Niagra Water, Nature Made Vitamins and Rockwell Tools.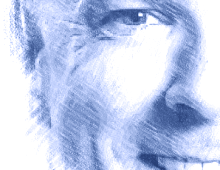 PETER K. O'CONNELL – New to the state of North Carolina but a 37 year voiceover professional, Peter's voiceover business is based just outside of Raleigh, NC in Cary, NC. Some of Peter's voiceover clients include IBM, L.L.Bean, Duracell Batteries, General Electric, Kraft Foods, Western Union, PBS Television Network, Shell Oil, Deloitte Canada, U.S. Army, Starz Cable Television Network, BlueCross BlueShield and SunSetter Awnings.
As the primary charity event for MVO: The Voice-Over Guys since we began, Movember is the annual fund raising event for  men's health including prostate cancer, testicular cancer, mental health and suicide prevention.
All 4 voice talents have agreed to start the month of November freshly shaven and then grow facial hair all month long to continue the discussion of men's health issues with family and friends while also gathering donations from those same folks…people like you (that's a hint: please donate)!
Throughout the month of November, we will be posting weekly updates on this blog showing how are growing is going.
Even though Movember begins on November 1st, we will accept your donations starting today!
We'd be honored if you could make a donation either to one of our MVO growers that you know, or just make one donation to the whole team.
Here is a link to the MVO TEAM PAGE
Here is a link to MIKE COOPER'S MOVEMBER PAGE
Here is a link to BRANDON POLLOCK's MOVEMBER PAGE
Here is a link to DUSTIN EBAUGH'S MOVEMBER PAGE
Here is a link to PETER K. O'CONNELL MOVEMBER PAGE
Thank you for whatever support you can offer us.