The annual rite of fall is here again – Movember 2017.
November 1st is the one day when male voiceover talents have to shave off their whiskers, only to have to grow them back over the next 30 days.
We do it all for a really good cause, Men's Health. Movember is celebrating its 10-year fundraising anniversary in the U.S., bring attention to and directing funds towards critical men's health issues including: prostate cancer, testicular cancer, mental health and suicide prevention.
Since the start of MVO: The Voice-Over Guys, this has been our primary charity event, driven by the donations of people who have been impacted by these terrible problems directly or indirectly…as well as those folks who just want to help.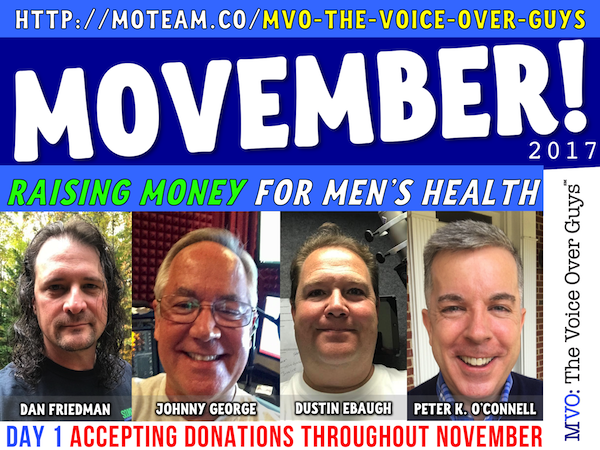 The four fresh faced participants for this year's Movember event are….
Dan Friedman – From his Asheville, North Carolina studio, Dan has voiced for Wal-Mart, IBM, Crowne Plaza Hotels, PGA Tour and McDonalds.
Johnny George – Recording from his Anthem Studios in Anthem, AZ, Johnny's clients have included Rolls-Royce, CBS-TV, Wendy's, Toyota and Disney.
Dustin Ebaugh – Based in Las Vegas, Dustin's voice has been heard on media projects for brands including Ferrari, Pepsi, Delta Airlines, The Four Seasons Hotels and UPS.
Peter K. O'Connell – Formerly of Buffalo, NY and now living in Cary, NC (just outside of Raleigh), Peter's has been the featured voice talent on media projects for major brands including Kraft Foods, General Electric, PBS, Deloitte and Fox Sports North.
If you could donate to our team, that would be great (any amount is gratefully accepted). PLEASE DONATE HERE.
ABOUT THE MOVEMBER FOUNDATION
The Movember Foundation is the only global charity focused solely on men's health, funding over 1,200 innovative projects across 21 countries. To date, the Foundation has raised $769M USD for men's health programs supporting these critical areas: prostate cancer, testicular cancer, mental health and suicide prevention. Find out more at Movember.com
ABOUT MVO: THE VOICE-OVER GUYS
MVO: The Voice-Over Guys offers media producers the greatest variety of some of the most experienced and popular male voice-over talents ever assembled in one place. Producers can work with any one of the 20 Voice-Over Guys directly with no extra fees.