It's Movember 2017 Day 28 here at MVO: only 3 (three!) days left to welcome donations for Movember 2017.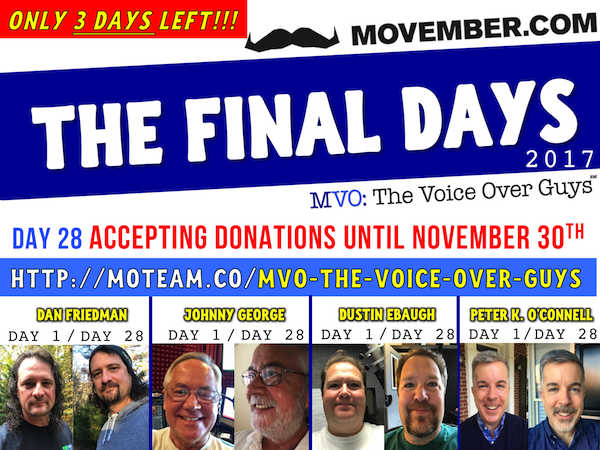 Prostate Cancer, Testicular Cancer, Mental Health and Suicide Prevention aren't fun to talk about but attention breeds prevention and that's a big part of what Movember is all about (and research too)
YOUR donations make that all possible. If you can, please donate right now. The links are below.
From PETER, DUSTIN, JOHNNY and DAN – thank you for your donation.
Here are the links to where you can donate.
If you would like to donate to Movember via  DAN FRIEDMAN: please click here
If you would like to donate to Movember via JOHNNY GEORGE: please click here
If you would like to donate to Movember via DUSTIN EBAUGH: please click here
If you would like to donate to Movember via PETER K. O'CONNELL: please click here
If you would like to make one SINGLE TEAM DONATION, split among all the fellows: please click here
There is no real contest, just bragging rights as all the money goes straight to the Movember Foundation, the only global charity focused solely on men's health, funding over 1,200 innovative projects across 21 countries. To date, the Foundation has raised $769M USD for men's health programs supporting these critical areas: prostate cancer, testicular cancer, mental health and suicide prevention.
Thank you for your support.
MVO THE VOICE-OVER GUYS' MOVEMBER SPOTLIGHT: Peter K. O'Connell
Here's my short biography…
Hi, I'm Peter and I'm a voiceover talent!
Now, if you feel the need to punish yourself, here is my slightly longer biography…
Before Madonna sang about her virginity, when making a phone call from the road meant plunking twenty five cents into a phone booth and back when getting "on-line" meant waiting to check-out at the grocery store, I began my career as a male voiceover talent and live announcer.
I am celebrating my 35th year as a professional male voice-over talent.
As America's Friendly, Neighborhood Voiceover Talent, my broad vocal range allows me my global clients, who range from Fortune 500 Companies to companies who think $500 is a fortune.
Some of the more well known brands I've voiced for include General Electric (GE), Kraft Foods, Public Broadcasting Service, Shell Oil, Duracell Batteries, Starz Network, Papa John's Pizza and Fox Sports Networks.
Local companies to international brands, I proudly work with them all.
People have told me I am a natural born storyteller. From my conversational everyman voice to my hard sell straight announcer performances, my voice is most often heard in media productions like:
• Commercials (Radio & TV)
• Corporate Narrations
• Explainer Videos
• Live Announcing, Hosting & Moderating
• Political Commercials
• Broadcast Promo (Radio & TV)
• Message On-hold
A native of Buffalo, NY, I grew up in the Nickel City – I even worked in radio there at WLVL, for, like a week. I truly developed my broadcasting and voice-over skills in Dayton, Ohio at WVUD-FM as a top rated disc jockey and then as a commercial producer for the station.
I produce my voiceover projects through my audio production company, audio'connell Voiceover Talent which is a division of O'Connell Communications, LLC. audio'connell also provides casting services for clients looking for professional female voiceover and audio production services for national and international clients. The voice over needs of foreign language clients are served through another O'Connell-owned company, International Voice Talents.
I also wrote The Voice Over Entrance Exam. The free e-book examines the business and performance realities of becoming a voice-over talent and maintaining a career among a spirited field of established voiceover professionals. The Voice Over Workshop is another one of my companies. In private one-on-one voiceover sessions in my studio or via Skype, I teach new and experienced voice talents what I've learned after nearly 30 years in the voice over business and critical stuff voice actors need to know to get paid voice jobs.
I received my Bachelor of Arts degree in Radio and Television Communication from the University of Dayton (OH) – no one is quite sure how – nonetheless the official diploma can be found somewhere in my Cary, North Carolina home (just outside of Raleigh, North Carolina) where I live with my wife and children.
the top 10 "Most Influential Voice-Over Writers in 2011" in a Voice123 online survey. He is a home studio coach with Voicebank and Edge Studios and is also a voiceover teacher and coach for the Screen Artists Co-op in Asheville, NC.
Dan's Sound4VO studio is fully-equipped to provide audio recording, editing, mixing and full-production for radio, television, web, e-learning and corporate presentations. Other services include voiceover, copy-editing, talent direction, talent training and coaching. With a broad selection of microphones, multiple pairs of studio monitors, custom acoustic treatment, phone patch and based around the world famous Universal Audio Apollo Interface, Sound4VO studios offers the very best in professional audio production and sound.
Dan Friedman is an accomplished engineer, producer, director and author. He is also a successful voiceover talent and has been heard on hundreds of local and regional television and radio campaigns as well as many corporate narrations. He has been the national voice for Moe's Southwest Grill, Crowne Plaza Hotels and Hulu Plus. Other recent clients include: WalMart, Hardees, IBM, McDonald's and many more.
From blue-collar to red carpet. Hip, edgy and energetic. Laid-back, cool and conversational. Dan Friedman has a sound and style that delivers.