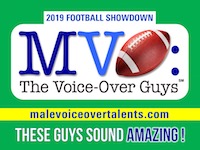 Male Voiceover Talent STEVE HENDERSON and Atlanta takes on Male Voice Talent DUSTIN EBAUGH and Houston during NFL Showdown 2019 week 5!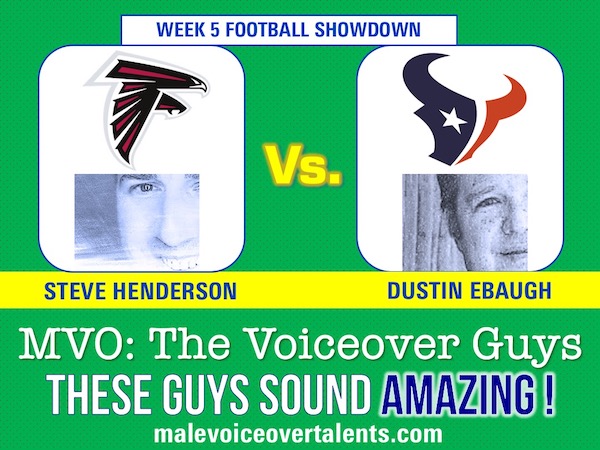 ABOUT STEVE HENDERSON
Steve Henderson is an international voice over talent from Atlanta, Georgia.
For more than two decades, he has successfully built and maintained client relationships with brands from around the world. Today, Steve lends his voice talents to dozens of new clients' brands and messages. He's passionate about ensuring the message cuts through and that the project is a success.
Steve says that in addition to training with world renowned voice coaches, a big part of his voice talent success also stems from being a video producer and network post-production editor for brands like TNT, TBS, Cartoon Network, NBA-TV, and more. He understands the entire process from both sides of the window as he's cast and produced dozens of projects.
When you hire Steve you're hiring more than just a voice artist. You're hiring someone who gets you, and wants to make your project as impactful, efficient, and successful as it can be.
ABOUT DUSTIN EBAUGH
With over 20 years of experience in the voiceover industry, Dustin Ebaugh's voice has been described as clear, natural, warm, friendly, agreeable, believable and trustworthy. His voice is ideal for narration, commercials, promos and radio and television station imaging.
He takes direction very well and can change delivery according to your needs.
In his professional personal studio, he uses Neumann and Rode microphones, Apogee inputs, Twisted Wave, Adobe Audition, a Focusrite Red 7 and a Blue Robbie tube preamplifier. he can easily do a telephone patch for recording sessions and offers SourceConnect, ipDTL and ISDN.
He has been heard nationally on network television and radio, broadcast cable, MTV and VH-1, on infomercials for Les Mills Pump by Beachbody and on commercials for Niagra Water, Nature Made Vitamins and Rockwell Tools. Dustin is honored to be the radio and television voice of The Harley-Davidson Museum in Milwaukee, Wisconsin. His corporate narration clients include: Ferrari, The United Nations, General Electric, Pepsi, Delta Airlines, UBS, Kraft Foods, The Four Seasons Hotels, UPS, The United States Air Force, Pizza Hut and many others.
Some client comments:
"The on time delivery would never have been possible without the support and help from you.Thanks again for all the extra effort and team work."
-Joy Chatterjee, Business Manager-Projects, TaTa Interactive Systems
"We've relied on Dustin for years, and he's never let us down. His attention to detail and quick turnaround times have been an asset to our business!"
-Christine Doucette, Director of NexLearn Studios