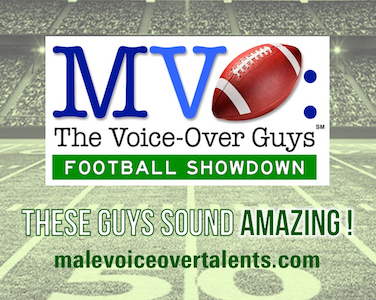 Male Voiceover Talent JAMES CLAMP and Los Angeles takes on Male Voice Talent DAN HURST and Kansas City during NFL Showdown 2020 week 17, the seventeenth and final regular season game of the MVO football season.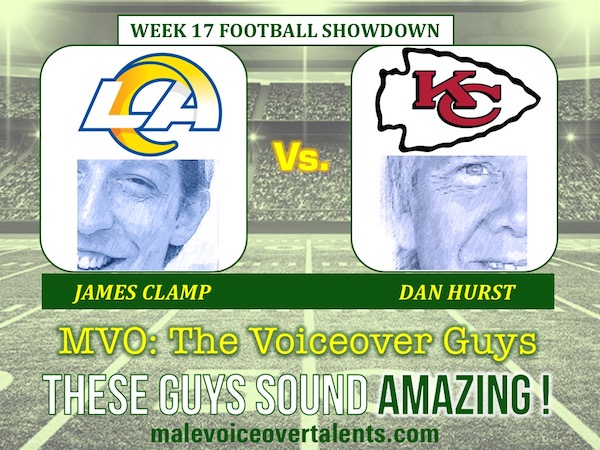 ABOUT JAMES CLAMP
James Clamp is an Award Winning young British Voice Over Actor originally from London, England. He collected his first Earphone Award in January 2011
Based in New York, he works from his fully equipped professional ISDN and Source Connect capable studio specializing in Commercials, Promo's, Corporate Videos, Audiobooks, eLearning Modules and Training Narrations.
He's proficient at many accents including RP, Cockney, Northern English, Australian, Scottish, South African, French and Russian. Please feel free to phone or email with any questions, or to request a proposal.
Here are some client reviews of James Clamp's voiceover work:
"This was our first recording with James. Perfect on the first try! We will surely work with him again."
"James did a fantastic job on our recent Voice Over project. He completed each phase with speed and professionalism and I would highly recommend using James on your next project. Our client was more than pleased and in fact had no edits or comments on his first take."
"James is very professional and attentive to my client's needs."
"Great work and amazing punctuality. We will be happy to work again with James anytime."
"James was extremely helpful, understanding, and timely. I would certainly recommend him for future work!"
"James helps listeners negotiate waves of turbulent emotions and shifts from past to present, place to place, and viewpoint to viewpoint."
"Clamp engages listeners through his subtle British accent, which conveys powerful emotions."
"Clamp's narration is evocative, responsive to the emotional nuances of the story, and wonderfully flexible…..Lightness and depth, sorrow and joy are beautifully captured."
"Excellent to work with, also very fast and professional."
"Great voice, speedy service A++"
"Brilliant – very clear and articulate, great pronunciation for small children, quick turnaround. Great job, thanks!"
ABOUT DAN HURST
Dan -daniel eduardo- Hurst was raised in Honduras, the son of missionary parents. He grew up speaking Spanish AND English equally. That's one of the things that makes his talent so unique. He's fluent and natural in both languages. A rare combination!
Dan has extensive experience in bilingual voiceovers, including such national and international clients as Volkswagen, T-Mobile, Telemundo, Pizza Hut, Boehringer Ingelheim, and Océ. Dan's production studio is just outside of Kansas City. He offers fast turnaround on any format by FTP, or ISDN, and now ipDTL – ISDN quality online (completely free to Dan's clients).