MVO: The Voice-Over Guys Pick Their 2019 NBA Champion. And it will be one of the most interesting NBA finals in a long time.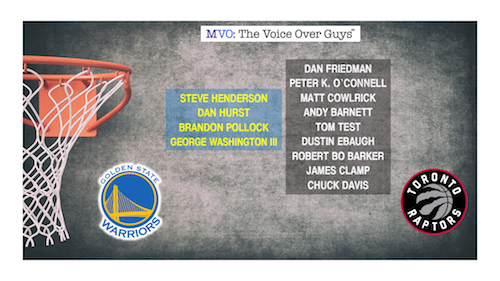 For the first time in their history (established in 1995), the Toronto Raptors are in the NBA Championship.
The Golden State Warriors are an NBA dynasty with a roster of talent that could easily take up its own wing of the NBA Hall of Fame today.
The consensus seems to be that the Warriors will dispatch the Raptors in short order. But the Raptors didn't get a golden buzzer into the finals…they earned it.
Will Golden State prove the prognosticators right? Or will Toronto surprise everyone (maybe even their own hockey-crazed countrymen) and bring Canada it's first NBA championship?
Either story will make this final an amazing one. Enjoy.
GOLDEN STATE WARRIORS
TORONTO RAPTORS