MVO: The Voice-Over Guys Pick Their 2019 NHL Champion. Yes it's the annual MVO NHL Showdown!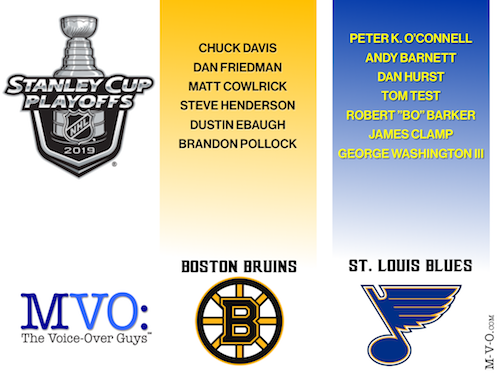 Some of the decisions are regionally based (where the voice talents live).
Some are emotionally based (their long time favorite team).
Some are just plain wrong (for example, if the voice talent picked the Bruins, they are just plain wrong…or they are not a Buffalo Sabres fan, either way).
St. Louis has been the surprise team of the series with not too many hockey prognosticators calling for the Blues to make it all the way to the finals.
The Bruins have lied, cheated and stole their way into the NHL playoffs more times than can be counted but that's what one might expect from dirty players.
(EDITOR'S NOTE: It is possible that the writer of this blog post does not like any Boston sports teams because of that city's long time rivalry with another city whose name rhymes with Nuffalo. Therefore neither the Gruins nor the Cheatriots are likely to get a fair shot here. And that is where the actual good natured fun and ribbing of sports rivalries comes in 🙂 )
So here are the NHL Stanley Cup Championship picks from MVO: The Voiceover Guys – NONE of whom are hockey experts but are hockey fans.
BOSTON BRUINS
ST. LOUIS BLUES