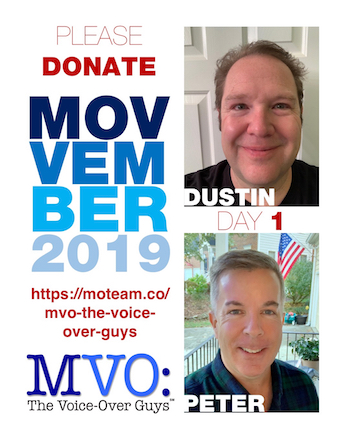 Movember 2019 – Day 1 is the start to MVO: The Voiceover Guys' primary charitable effort, THE MOVEMBER FOUNDATION. The Foundation focuses on men's heath issues including men's cancer (focused on prostate cancer and testicular cancer…or for us – just getting rid of cancer), mental health and suicides.
This year's whisker growers from MVO: The Voiceover Guys are DUSTIN EBAUGH and PETER K. O'CONNELL.
Why this charity? It seemed a pretty natural fit that a collective of male voiceover talents like MVO would support a foundation focused on male health issues. If we can raise awareness and funds by growing whiskers for a month, we'll do it. It's really that simple.
The problems facing men's health are not that simple nor do these male health issues get very much attention.
Men's health is in crisis. Men are dying on average 6 years earlier than women, and for largely preventable reasons. Unchecked, prostate cancer rates will double over the next 15 years. Testicular cancer rates have already doubled in the last 50. And across the world, one man dies by suicide every minute of every day, with males accounting for 75% of all suicides.
You've now read all that and chances are you didn't know those alarming statistics before you read this post. That's how MVO can help on the awareness part.
We now would humbly ask that you DONATE whatever you are able to our cause (all funds go directly to the Movember Foundation) so that they can help take on these fights.
Thank you so very much.