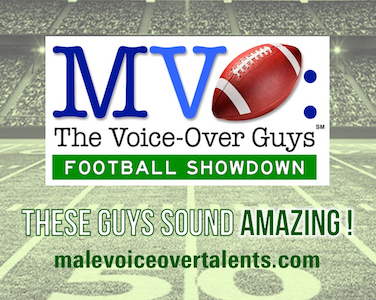 Male Voiceover Talent ANDY BARNETT and Minnesota takes on Male Voice Talent MEMO SAUCEDA and Chicago during NFL Showdown 2020 week 10, the tenth game of the MVO football season.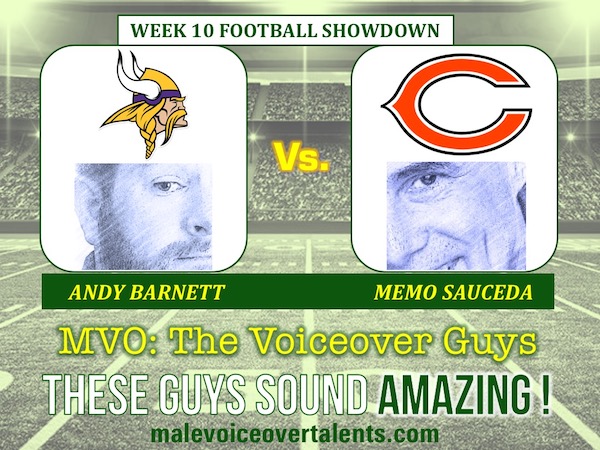 ABOUT ANDY BARNETT
Andy has been acting since he was a kid (and by some accounts he still is a kid). Some voice actors claim versatility, but Andy embodies it. His natural conversational voice is friendly, laid back, just like your buddy from college or your next door neighbor. More than one client has suggested he kind of sounds like Jon Hamm at times. But don't let that fool you, Andy also has the vocal gravitas to do everything from a younger sound to a deep masculine blue-collar Midwesterner, from a straight announcer to an international neutral accent, and last but not least, a variety of character voices. Just don't ask him to sing or dance (the poor guy can't carry a note, and his coordination is rather cringeworthy).
ABOUT MEMO SAUCEDA
Memo Sauceda started acting in theater when he began college more than 30 years ago in Monterrey, México; and although he graduated in business & computer science, he decided to pursue his acting career. He studied at the Drama Studio London, and went back to Mexico to do theater, dubbing (lending his voice in Spanish to Mel Gibson, Kevin Costner, and John Travolta among others), voiceovers, soaps, industrials, and as an anchor in TV shows.  In 1997, the network Telemundo brought him to Miami to host Edición Especial, Mira que TVO and Ay Caramba, and he won 3 Emmys while with them. Today, Memo is one of the most respected and trustworthy talents in the Hispanic market, and he is always happy to help his fellow performers.