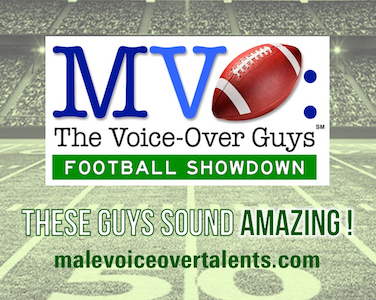 Male Voiceover Talent DUSTIN EBAUGH and Green Bay takes on Male Voice Talent CHADD PIERCE and Indianapolis during NFL Showdown 2020 week 11, the eleventh game of the MVO football season.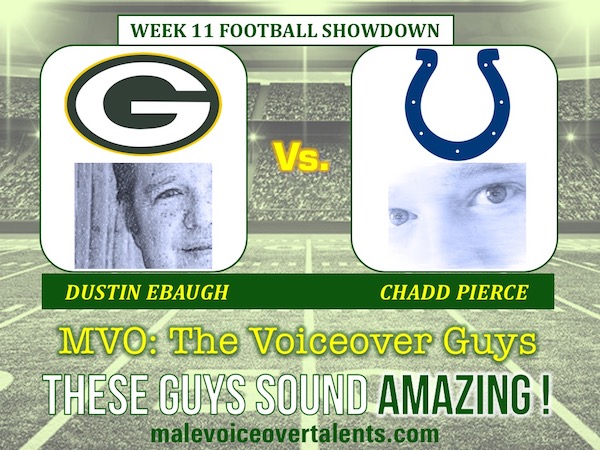 ABOUT DUSTIN EBAUGH
With over 20 years of experience in the voiceover industry, Dustin Ebaugh's voice has been described as clear, natural, warm, friendly, agreeable, believable and trustworthy. His voice is ideal for narration, commercials, promos and radio and television station imaging.
He takes direction very well and can change delivery according to your needs.
In his professional personal studio, he uses Neumann and Rode microphones, Apogee inputs, Twisted Wave, Adobe Audition, a Focusrite Red 7 and a Blue Robbie tube preamplifier. he can easily do a telephone patch for recording sessions and offers SourceConnect, ipDTL and ISDN.
He has been heard nationally on network television and radio, broadcast cable, MTV and VH-1, on infomercials for Les Mills Pump by Beachbody and on commercials for Niagra Water, Nature Made Vitamins and Rockwell Tools. Dustin is honored to be the radio and television voice of The Harley-Davidson Museum in Milwaukee, Wisconsin. His corporate narration clients include: Ferrari, The United Nations, General Electric, Pepsi, Delta Airlines, UBS, Kraft Foods, The Four Seasons Hotels, UPS, The United States Air Force, Pizza Hut and many others.
Some client comments:
"The on time delivery would never have been possible without the support and help from you.Thanks again for all the extra effort and team work."
-Joy Chatterjee, Business Manager-Projects, TaTa Interactive Systems
"We've relied on Dustin for years, and he's never let us down. His attention to detail and quick turnaround times have been an asset to our business!"
-Christine Doucette, Director of NexLearn Studios
ABOUT CHADD PIERCE
Chadd's approach to voiceover is uniquely holistic. He's sat in the director's chair, as cast and coached talent, serves as copywriter, performs on-camera, and is an active a/v editor and post-producer. Easily directed within a huge range. Exudes a smart 4th Wall-breaking "wink", and conversational realism.