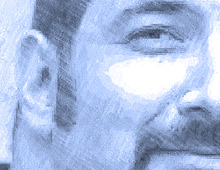 MVO: THE VOICE-OVER Guys' Dave DeAndrea is really known more for his voice talents than his singing talents (although, as we'll find out, he's a nice singer). But today, Dave released his first single (strictly for enjoyment, not profit).
It's an ode to his love of all things voice-over set to the tune of a popular pop-love song of a certain generation.
We're proud of Dave for many reasons here at MVO – this is just one more example.