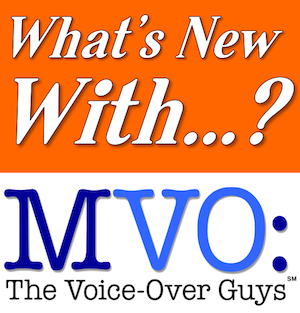 What's New With PETER K. O'CONNELL Fall 2022 is part of a series in which MVO: The Voice-Over Guys checks-in with one of our male voiceover talents to learn more about a recent media project he has voiced. Here's what Brandon shared with us.

1. You mentioned a really cool voiceover project in your recent MVO: The Voiceover Guys update. Can you talk about who the project was for and where it was heard or seen?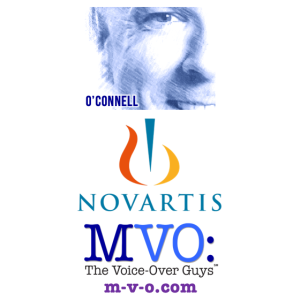 I got to be the male voice talent on a two-person national radio campaign for Novartis. My character was the patient, a kind of everyman, talking about the overall challenges of dealing with lung cancer.
Novartis, one of the largest pharmaceutical companies in the world and this radio spot was for its Sound Up For Lung Cancer awareness program.
>>> LISTEN TO THE COMMERCIAL HERE.
2. What made the media production's content interesting from your perspective?
I thought this was special for many reasons not the least of which was that Novartis' Sound Up for Lung Cancer initiative empowers people living with lung cancer to advocate for themselves in a manner that helps them get the best care possible.
For people fighting a difficult disease like lung cancer, this program sounds extremely helpful.
3. As the voice talent in the media project, were there any technical or performance challenges during this voiceover recording session?
Thankfully no.
I've worked with the production company responsible to this campaign for over a decade so there is a great deal of familiarity and trust between us when it comes to my studio's technical specification, my audio production capabilities and and my performance abilities.
Now that I think about how I just said that, it sounds braggadocios and I didn't mean it that way (laughs) – all I mean is that we each have equally high standards and expectations in production and performance and – because of those complimentary standards – we work well together.
Now ask another question so I can stop sounding like idiot braggart (laughs).
4. Is this project's category of voiceover work something you do a lot or do you have another voiceover specialty?
Working on radio and TV commercials has always been the biggest part of my voiceover business – and I've been doing this for 40 years as of 2022. Whether national, regional or local commercial spots, I've been very blessed as a male voiceover talent.
The other big part of my voice talent business is everything narration. Sales videos, explainer videos, corporate narration…I voice a ton of those projects as well.
Then lastly I would say I'm best known at live events for my live announcing, hosting and emceeing.
Also, I do magic shows for kids birthday parties. KIDDING, no I don't. No calls please. I'm going to regret saying that (laughs).
ABOUT PETER K. O'CONNELL
IT WAS 1969 and I was in kindergarten.
Our saintly teacher, Sister Donna Marie, took our class on a trip to WEBR-AM in Buffalo, NY.
The minute I walked into that radio station control room…BOOM!
Everything changed for me. Everything.
I knew instantly my life would always include a microphone.
From securing my high school's first-ever broadcasting internship to hosting Dayton, Ohio's #1 rated Saturday night request show on a 50,000-watt FM station while only in college, I've been behind a microphone almost ever since.
My audio production and voiceover work evolved into my voiceover production company, audio'connell Voiceover Talent.
There, I voice commercials, narrations and broadcast promos for clients like Amazon (AWS), Crest Toothpaste, iHeart Radio and Duracell Batteries.
In 2016, we O'Connells packed up our Conestoga wagon and ventured from our longtime home in Buffalo, NY to Raleigh, NC (near Research Triangle Park), where my Source-Connect equipped, professional recording studio serves media producers world-wide.