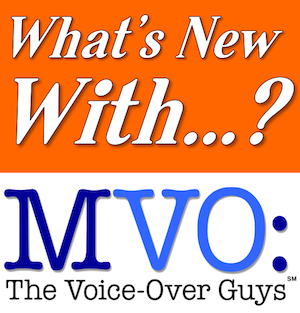 What's New With BRANDON POLLOCK Fall 2022 is part of a series in which MVO: The Voice-Over Guys checks-in with one of our male voiceover talents to learn more about a recent media project he has voiced. Here's what Brandon shared with us.

1. You mentioned a really cool voiceover project in your recent MVO: The Voiceover Guys update. Can you talk about who the project was for and where it was heard or seen?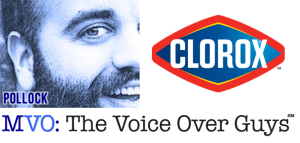 The year started out with a bang for me thanks to Desanti Talent in Chicago who helped me book an AVO role for Clorox in the launch of their new Disinfecting Mist. The AVO role was used in three :15 spots that ran nationally for most of this year, they are currently on "Hold". There's no question this job is one of my biggest bookings to date and that was extremely rewarding professionally.
However, it led to one of the coolest moments for me personally in April while visiting my mom and family for Easter. Over the years, I've only caught my national work on live TV once… and I was by myself so I had no one to share my excitement with. On Easter Sunday, we were all sitting around spending time together with the TV on in the background when one of the Clorox spots came on. That was pretty cool to share that moment with my entire family.
WATCH ONE OF BRANDON'S CLOROX SPOTS:
2. What made the media production's content interesting from your perspective?
I loved the writing and the fact they were using two VO talents on each spot. My job (as the spots' announcer/narrator) was really to set up the amazing performances of the talents who played the objects being sprayed and cleaned.
3. As the voice talent in the media project, were there any technical or performance challenges during this voiceover recording session?
While I have source connect in my home booth, I take advantage of having one of the best studios in the business, Groundcrew Sound in Charlotte, right down the road from me as often as I can. They gave me my start in this business so anytime I can utilize their space and talents, I do. Plus, with a gig of this magnitude, the last thing I wanted to be worried about during the session was the engineering aspect.
I knew it was going to be a great session the moment it started and turned out to be one of the most fun sessions I've had the privilege to be a part of. The agency and the client knew exactly what they wanted and we had the selects knocked out within the first few takes. Then they took off the cuffs and we had fun trying a handful of wild takes so they had plenty to work with.
It was a bit nerve-racking to be on hold while they were live mixing the spots to show the client before releasing me. After 30 minutes of anticipation, I happily welcomed the news that the "Client was thrilled."
4. Is this project's category of voiceover work something you do a lot or do you have another voiceover specialty?
Commercial work has always been my main source of voiceover income and I do love the genre. However, it's not the only VO genre I have a passion for. I'm very fortunate to have clients that bring me a wide range of VO needs from Automotive and e-Learning to industrial narrations and explainer videos. I also love audiobook narration work as well. In fact, I just recently signed with Tantor Audio and my first book with them, "Tailspin," is due out in November.
My next VO goal is to book an animation series.
ABOUT BRANDON POLLOCK
Since Brandon began his voiceover career in 2011, he's been trusted by companies all over the world to voice their projects ranging from commercials, industrial narrations, eLearning, explainer videos and more.
Brandon believes in getting it right and enjoys taking direction to deliver exactly what you're looking for.
He currently lives in Charlotte, North Carolina with his Wife, Lauren, and their two daughters Brynley and Ella Claire.