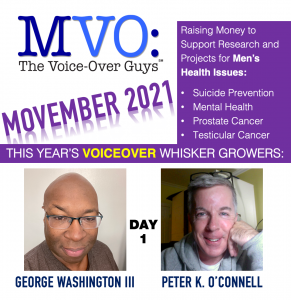 In spite of the fact that MVO: The Voiceover Guys are actually full of great men who talk for a living, we know that men generally are NOT great talkers.
Especially when it comes to *men* things and issues – like prostate cancer, testicular cancer, suicide and mental health.
By raising money for #Movember we are trying to raise money for research and projects that not only foster that discussion, but also develop research and possible solutions (cures) for these deadly issues.
This year, GEORGE WASHINGTON III and PETER K. O'CONNELL are growing the Movember whiskers for MVO: The Voiceover Guys and asking for your financial support. Your donation will go a long way.
You can donate to our team here: https://movember.com/t/mvo-the-voice-over-guys
Thanks!