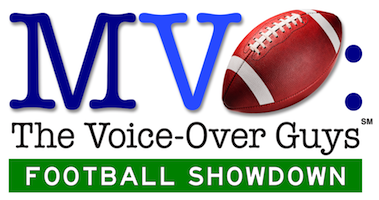 Male Voiceover Talent ROBERT "BO" BARKER and Minnesota takes on Male Voice Talent MATT COWLRICK and New York for NFL Showdown 2021 week 9.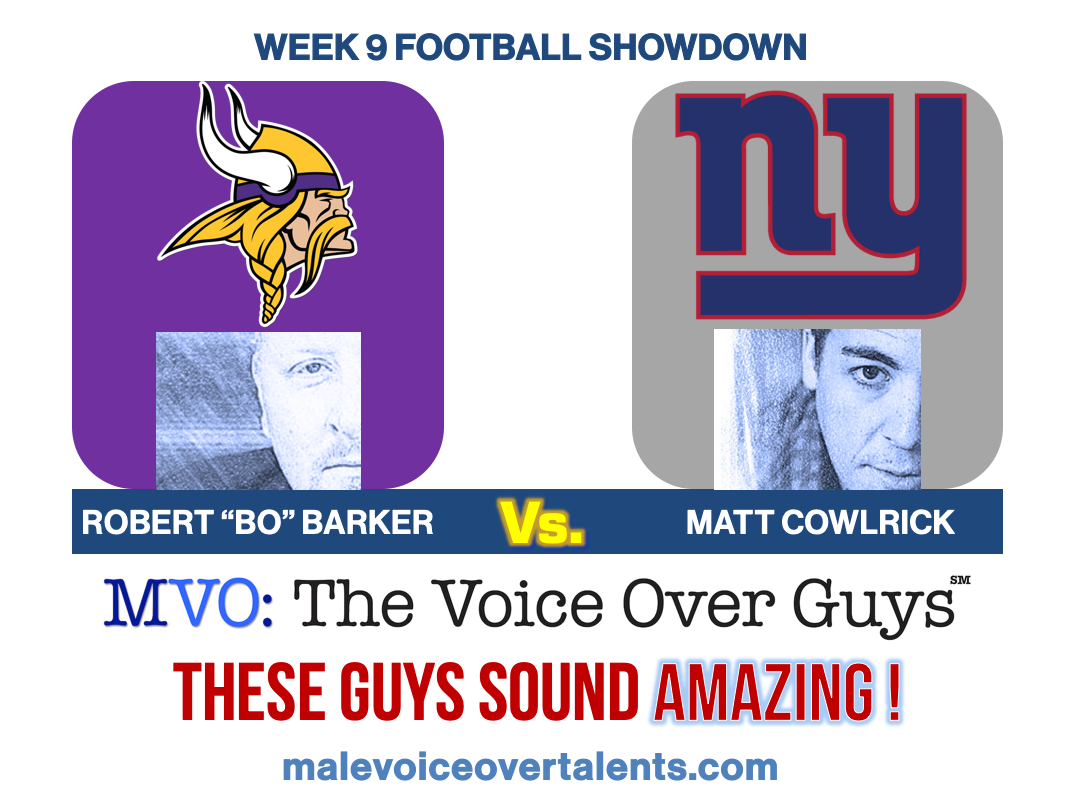 ABOUT MALE VOICE TALENT ROBERT "BO" BARKER
Bo Barker is a Emmy© and other industry award-winning professional voice talent with what has been described as "that familiar voice with a unique tone". He has voiced for some of the most recognized brands in the marketplace, as well as for leading Hollywood movie studios and content producers.
Respected industry leaders have called Bo a distinctive "signature voice" that resonates with the listener… as a result his voice has been found in varied venues around the globe.
He can credibly present the ubiquitous movie trailer or network promo voice. His sound and style provides a rich depth that has been called upon to represent established brands for major market commercial campaigns well as national product and DVD-feature releases. He can offer diverse read styles that conjure up true vocal portraits from varied settings ranging from the "deep south" all the way to a British-flavored performance.
Overall, Bo Barker can can vary from "knowledgeable and warm" for narration, to "cool, smooth and compelling " for professional and corporate presentations. Despite his notable sound, Bo can capably be the "real, normal guy" as well. And he's not afraid to evoke quirky, memorable character voices that remain believable.
Bo also offers an identifiable and influential radio station imaging voice for a wide array of formats from Classic Rock to Classical Music ….from Easy Listening to Today's Country Hits. You may just be convinced that you have heard him somewhere before!
From his connected and equipped studio in the Midwestern USA, Bo has worked hand in hand with known creative forces in the major markets as well as with small business owners looking to bring their own promotional media and marketing goals to fruition.
No matter what your particular project might be, Bo can help sculpt the right approach for you. If you want to bring a unique, effective "voice to your vision", Bo Barker can help make the difference!
ABOUT MALE VOICE TALENT MATT COWLRICK
Matt Cowlrick's voice over career spans over 20 countries, utilizing multiple accents and a variety of voice types and age ranges. His clients include an impressive collection of the world's top brands and multinational companies. Matt records for commercials (TV, radio and web), animation, corporate and industrial narrations, promos and many other mediums.
Based in beautiful British Columbia, Canada, Matt works from his fully equipped digital studio and delivers recordings via Source Connect, ISDN, ipDTL, phone patch and Skype.
Some of his most recent Clients: Blizzard, AMC, The Smithsonian, Toyota,Porsche,TD Bank, Amazon, Sony, Mastercard & IBM.