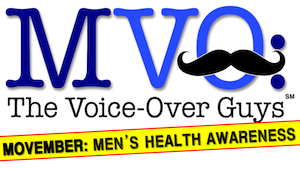 Movember Week 1 2021 is now in the books with both voiceover talent GEORGE WASHINGTON III and voice actor PETER K. O'CONNELL showing signs of stubble.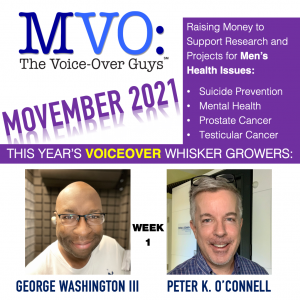 We know it's hard to believe that these guys will have full facial hair growth at the end of the month….but it COULD happen!!
Meanwhile, both NEED YOUR DONATIONS to help make the MVO: The Voiceover Guys' Movember team goal of $1,500.
As of this writing, we have $336 so only a little over 22% of their goal now with 3 weeks left.
Even if you donate to one of the Voiceover Guys directly, it STIL goes towards the team goal.
Pick which ever link you like and please make your Movember donation to support research and projects to help overcome Testicular Cancer, Prostate Cancer, Men's Suicide and Men's Mental Health Challenges.
George Washington III's MOVEMBER PAGE
Peter K. O'Connell's MOVEMBER PAGE
MVO: The Voiceover Guys' TEAM MOVEMBER PAGE
Thank you!