Male Voiceover Talent MIKE COOPER and Oakland takes on Male Voice Talent ANDY BARNETT and Kansas City during NFL Showdown 2019 week 13!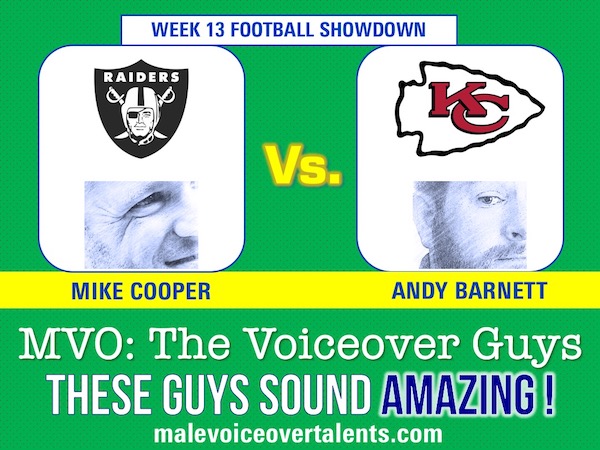 ABOUT MIKE COOPER
Mike is a British voice over from London, who's now based in the mountains of North Carolina. Mike emigrated from London to the USA in 2014 with his partner, two rescue dogs, and his natural, neutral, and famously friendly sound – which is fast becoming as popular in the States as it is in the UK.
The voice of numerous shows for A&E, HISTORY and National Geographic in the UK – as well as being heard globally for a decade on the BBC World Service – Mike has been called a "one-take wonder", and loves bringing his wit and humour into the booth (when appropriate!) to play tongue-in-cheek, as well as straight/dramatic British. Producers who are taking the time to get to know Mike just seem to love him and keep coming back.
ABOUT ANDY BARNETT
Andy has been acting since he was a kid (and by some accounts he still is a kid). Some voice actors claim versatility, but Andy embodies it. His natural conversational voice is friendly, laid back, just like your buddy from college or your next door neighbor. More than one client has suggested he kind of sounds like Jon Hamm at times. But don't let that fool you, Andy also has the vocal gravitas to do everything from a younger sound to a deep masculine blue-collar Midwesterner, from a straight announcer to an international neutral accent, and last but not least, a variety of character voices. Just don't ask him to sing or dance (the poor guy can't carry a note, and his coordination is rather cringeworthy).