Male Voiceover Talent ROWELL GORMON and Carolina takes on Male Voice Talent SEAN CALDWELL and Atlanta during NFL Showdown 2019 week 14!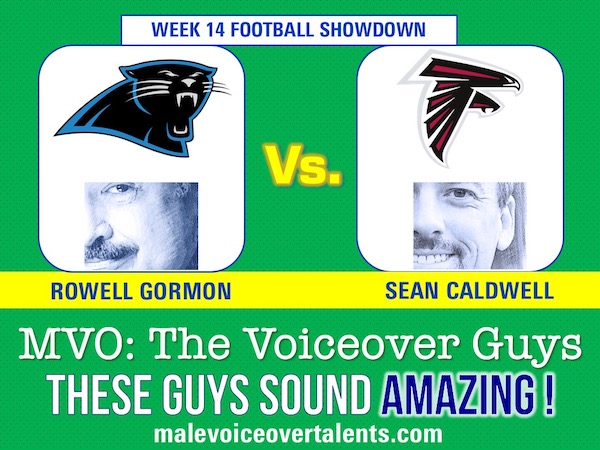 ABOUT ROWELL GORMON
Rowell (conveniently rhymes with "role") Gormon is a full-time professional voiceover talent. He provides commercial voices (for TV, radio & web), narration voices and of course, character voices.
Known to many as the "Man of 999 1/2 Voices", Rowell is equally at home doing a relaxed guy-next-door read in one session, then a convincing businessman or senior citizen in the next, shifting to laid-back storyteller, to a toy robot, to a stuffy butler, or an animated light bulb…all before lunch.
Rowell provides full audio editing and production too! Rowell works from his ISDN-equipped studio, making his clients' lives a lot easier as "Mr. Warm and Friendly Voice…with Character".
Rowell is also available for quick turnaround voiceover projects like e-learning, documentary narration, animation, explainer videos as well as audiobooks.
ABOUT SEAN CALDWELL
Sean Caldwell is an award-winning voice over talent recording in Tampa, Florida and Atlanta, Georgia. Today Sean serves over 100 clients each month in diverse industries around the world. His work has won awards from NAB, Promax / BDA, The Marconi award, and two Telly awards.