Male Voiceover Talent DUSTIN EBAUGH and Green Bay takes on Male Voice Talent ROBERT "BO" BARKER and San Francisco during NFL Showdown 2019 week 12!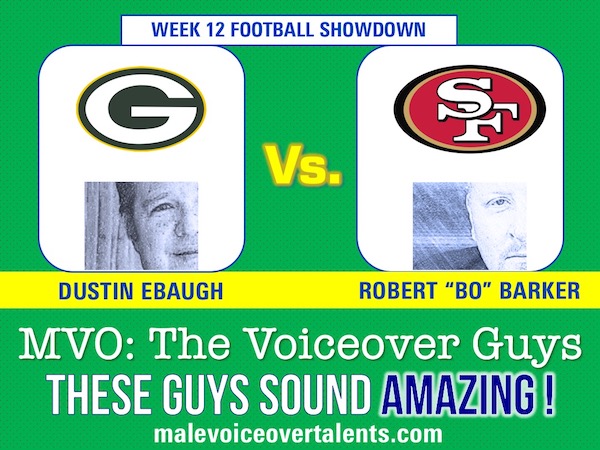 ABOUT DUSTIN EBAUGH
With over 20 years of experience in the voiceover industry, Dustin Ebaugh's voice has been described as clear, natural, warm, friendly, agreeable, believable and trustworthy. His voice is ideal for narration, commercials, promos and radio and television station imaging.
He takes direction very well and can change delivery according to your needs.
In his professional personal studio, he uses Neumann and Rode microphones, Apogee inputs, Twisted Wave, Adobe Audition, a Focusrite Red 7 and a Blue Robbie tube preamplifier. he can easily do a telephone patch for recording sessions and offers SourceConnect, ipDTL and ISDN.
He has been heard nationally on network television and radio, broadcast cable, MTV and VH-1, on infomercials for Les Mills Pump by Beachbody and on commercials for Niagra Water, Nature Made Vitamins and Rockwell Tools. Dustin is honored to be the radio and television voice of The Harley-Davidson Museum in Milwaukee, Wisconsin. His corporate narration clients include: Ferrari, The United Nations, General Electric, Pepsi, Delta Airlines, UBS, Kraft Foods, The Four Seasons Hotels, UPS, The United States Air Force, Pizza Hut and many others.
Some client comments:
"The on time delivery would never have been possible without the support and help from you.Thanks again for all the extra effort and team work."
-Joy Chatterjee, Business Manager-Projects, TaTa Interactive Systems
"We've relied on Dustin for years, and he's never let us down. His attention to detail and quick turnaround times have been an asset to our business!"
-Christine Doucette, Director of NexLearn Studios
ABOUT ROBERT "BO" BARKER
Bo Barker is a Emmy© and other industry award-winning professional voice talent with what has been described as "that familiar voice with a unique tone". He has voiced for some of the most recognized brands in the marketplace, as well as for leading Hollywood movie studios and content producers.
Respected industry leaders have called Bo a distinctive "signature voice" that resonates with the listener… as a result his voice has been found in varied venues around the globe.
He can credibly present the ubiquitous movie trailer or network promo voice. His sound and style provides a rich depth that has been called upon to represent established brands for major market commercial campaigns well as national product and DVD-feature releases. He can offer diverse read styles that conjure up true vocal portraits from varied settings ranging from the "deep south" all the way to a British-flavored performance.
Overall, Bo Barker can can vary from "knowledgeable and warm" for narration, to "cool, smooth and compelling " for professional and corporate presentations. Despite his notable sound, Bo can capably be the "real, normal guy" as well. And he's not afraid to evoke quirky, memorable character voices that remain believable.
Bo also offers an identifiable and influential radio station imaging voice for a wide array of formats from Classic Rock to Classical Music ….from Easy Listening to Today's Country Hits. You may just be convinced that you have heard him somewhere before!
From his connected and equipped studio in the Midwestern USA, Bo has worked hand in hand with known creative forces in the major markets as well as with small business owners looking to bring their own promotional media and marketing goals to fruition.
No matter what your particular project might be, Bo can help sculpt the right approach for you. If you want to bring a unique, effective "voice to your vision", Bo Barker can help make the difference!