Male Voiceover Talent GEORGE WASHINGTON III and Chicago takes on Male Voice Talent CHUCK DAVIS and Green Bay during NFL Showdown 2019 week 15!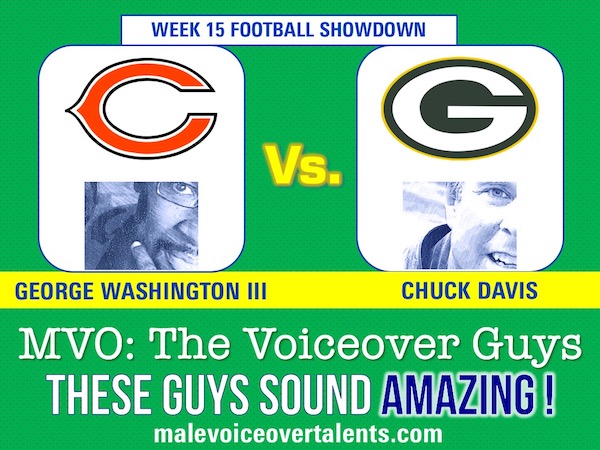 ABOUT GEORGE WASHINGTON III
In 2003, I began voicing with a trip to a local recording studio to do some narration bits for a First Union National Bank industrial. The gig stirred my imagination, and I began the research and practice to make my first demos. Working with sources both local and national, new opportunities came over time, and I started working on projects as small as phone messaging to as large as national ad campaigns.
Since that time, I have provided voice over services in documentaries, video games, radio and television commercials, in store announcements, marketing on hold, websites and web ads, virtually every aspect of the voice-over industry. My voice has represented companies like McDonalds, Courtyard by Marriott, Whole Foods, Big Lots, Time Warner Cable, and Lowe's Home Improvement. My home studio is giving me the opportunity to build on my voicing successes, and I am looking to keep growing with new clients and outlets for years to come.
I have called Charlotte home since 1998 with my daughters Grace, Naomi and Ella, and my son Jordan.
ABOUT CHUCK DAVIS
"I come from the same place your customers do. A family, a home…a real life. Let me tell 'em about your stuff! I've found it's really pretty good!"
Chuck is a real, straight ahead performer with a wry edge, a wink if you will. No announcers here….unless you really want one. In that case he'll hold a quick séance and channel one for you. Chuck's career so far has led him to perform for national TV campaigns for the likes of Prevagen (Quincy Bio Science), Blue Cross Blue Shield "Medicare Advance" (four years running) Osteo Bi-Flex, Verizon Wireless, WORX Air, The US Dept of Homeland Security, Hasbro and Playskool, He's the ongoing regional voice for scores of clients including Haynes Furniture in Virginia, The Vision Automotive Group in Rochester and the Finger Lakes region of New York, The Cartown Auto Group in Alabama and Kentucky and many more!