Male Voiceover Talent DAN HURST and Kansas City takes on Male Voice Talent  TOM TEST and Chicago during NFL Showdown 2019 week 16!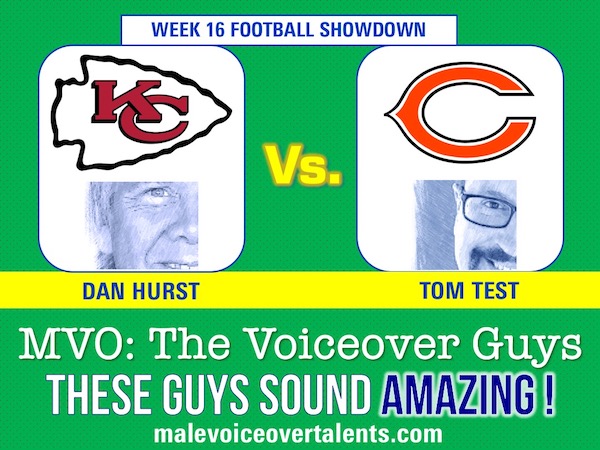 ABOUT DAN HURST
Dan -daniel eduardo- Hurst was raised in Honduras, the son of missionary parents. He grew up speaking Spanish AND English equally. That's one of the things that makes his talent so unique. He's fluent and natural in both languages. A rare combination!
Dan has extensive experience in bilingual voiceovers, including such national and international clients as Volkswagen, T-Mobile, Telemundo, Pizza Hut, Boehringer Ingelheim, and Océ. Dan's production studio is just outside of Kansas City. He offers fast turnaround on any format by FTP, or ISDN, and now ipDTL – ISDN quality online (completely free to Dan's clients).
ABOUT TOM TEST
Tom has been one of the top voice-over talents in the Midwest since 1989. He started my studio "Voices On" in 2003, and has since voiced hundreds of projects from web-based Flash animation to national TV spots to college-level textbook narrations to Corporate Video narrations. He has voiced quite a few Telly (and other) award-winning spots in my career, and has also been a much-in-demand voice-over coach and demo producer.
Tom can provide 24 hour or less turnaround and voice over file delivery service via MP3, WAV, AIFF, or whatever you require. His partial list of clients include: USAA, Shell, Accenture, 1-800-CONTACTS, Mercury Marine, United Airlines, Kraft, Samsung, Snapper/Simplicity Mowers, Eli Lilly, ITT, World Book Encyclopedia, Discover Card, International Trucks, Brightstar, Walgreen's, Morgan Stanley, Allstate, Cox Cable, Kawasaki, and MANY more!
As a voice-over talent, Tom's specialties include his warm yet authoritative read, which has been especially popular with health-care clients, with whom he has voiced several award-winning campaigns. Tom is NOT a radio announcer – he sounds like a REAL person, talking to you, telling you a true story.
He has a broadcast-quality recording studio, equipped with Source Connect and ipDTL for remote recording. He also has access to several low-cost ISDN studios in Chicago.
As an on-camera talent, Tom's ear-prompter ability is what separates him from his competition. His first read is spot-on from the get-go, and he works extremely quickly.