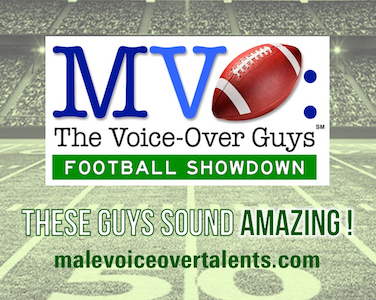 Male Voiceover Talent STEVE HENDERSON and Minnesota takes on Male Voice Talent TOM TEST and Green Bay during NFL Showdown 2020 week 8, the eighth  game of the MVO football season.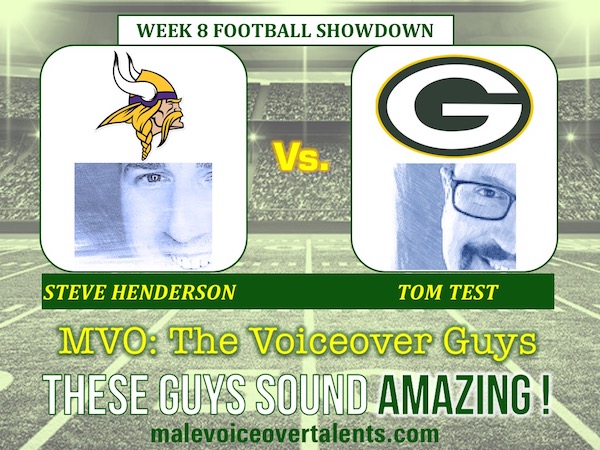 ABOUT STEVE HENDERSON
Steve Henderson is an international voice over talent from Atlanta, Georgia.
For more than two decades, he has successfully built and maintained client relationships with brands from around the world. Today, Steve lends his voice talents to dozens of new clients' brands and messages. He's passionate about ensuring the message cuts through and that the project is a success.
Steve says that in addition to training with world renowned voice coaches, a big part of his voice talent success also stems from being a video producer and network post-production editor for brands like TNT, TBS, Cartoon Network, NBA-TV, and more. He understands the entire process from both sides of the window as he's cast and produced dozens of projects.
When you hire Steve you're hiring more than just a voice artist. You're hiring someone who gets you, and wants to make your project as impactful, efficient, and successful as it can be.
ABOUT TOM TEST
Tom Test has been one of the top voice-over talents in the Midwest since 1989. He created his "Hi-Fi, Sci-Fi, Broadcast-quality studio" in 2003, and has since voiced hundreds of projects from Explainer videos to national TV spots to eLearning to Corporate Image narrations. Tom has voiced quite a few Telly- and other industry award-winning spots in his career, and has also been a much-in-demand voice-over coach and demo producer.
Tom can provide 12 hours or less turnaround and is equipped with Source Connect Standard for remote recording. He also has access to several low-cost ISDN studios in Chicago. Tom's partial list of clients include a who's who of the Fortune 1000: Blue Cross/Blue Shield, USAA, Xfinity, Coca-Cola, Shell, Accenture, GE, Boeing, United Airlines, Kraft, Samsung, Snapper/Simplicity Mowers, Eli Lilly, World Book Encyclopedia, Mercury Marine, Walgreen's, Morgan Stanley, Allstate, Kawasaki, and MANY more!
Tom's specialties include his warm, authoritative read – especially popular with health-care clients, with whom he has voiced several award-winning campaigns. Tom is *not* a radio announcer – he sounds like a REAL person, talking to you, telling you a true story. His first read is spot-on from the get-go, and he works extremely quickly, being dubbed by several clients as "Two Take Tom."