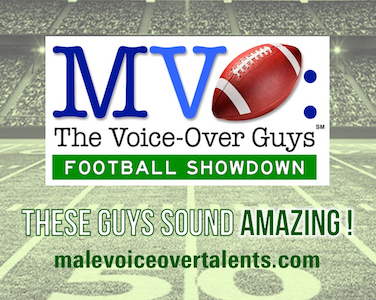 Male Voiceover Talent SEAN CALDWELL and New Orleans takes on Male Voice Talent CHUCK DAVIS and Philadelphia during NFL Showdown 2020 week 14, the fourteenth game of the MVO football season.
ABOUT SEAN CALDWELL
Sean Caldwell is an award-winning voice over talent recording in Tampa, Florida and Atlanta, Georgia. Today Sean serves over 100 clients each month in diverse industries around the world. His work has won awards from NAB, Promax / BDA, The Marconi award, and two Telly awards.
ABOUT CHUCK DAVIS
"I come from the same place your customers do. A family, a home…a real life. Let me tell 'em about your stuff! I've found it's really pretty good!"
Chuck is a real, straight ahead performer with a wry edge, a wink if you will. No announcers here….unless you really want one. In that case he'll hold a quick séance and channel one for you. Chuck's career so far has led him to perform for national TV campaigns for the likes of Prevagen (Quincy Bio Science), Blue Cross Blue Shield "Medicare Advance" (four years running) Osteo Bi-Flex, Verizon Wireless, WORX Air, The US Dept of Homeland Security, Hasbro and Playskool, He's the ongoing regional voice for scores of clients including Haynes Furniture in Virginia, The Vision Automotive Group in Rochester and the Finger Lakes region of New York, The Cartown Auto Group in Alabama and Kentucky and many more!