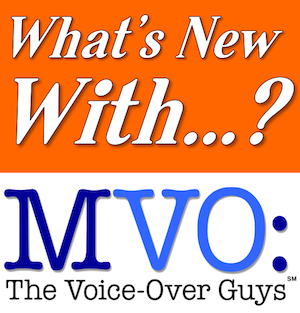 What's New With DARRELL BROWN Fall 2022 is part of a series in which MVO: The Voice-Over Guys checks-in with one of our male voiceover talents to learn more about a recent media project he has voiced. Here's what Darrell shared with us.

1. You mentioned a really cool voiceover project in your recent MVO: The Voiceover Guys update. Can you talk about who the project was for and where it was heard or seen?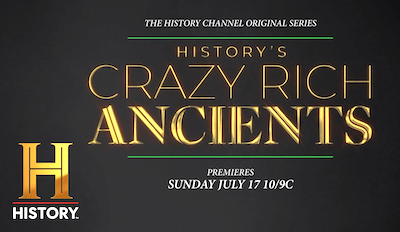 Yes, I had the privilege of narrating a new 12-episode series for The History Channel titled Crazy Rich Ancients…see what they did there? It was a unique experience because I was actually involved in the very beginning when it was just a concept. I worked with the production company to record a demo that they ultimately used to pitch to History. Needless to say it got picked up, and they selected me as the narrator.
2. What made the media production's content interesting from your perspective?
I think everyone can learn some interesting facts from this series. Each ½ hour episode features a theme – from bizarre collections to billion-dollar parties to nine-figure palaces – and takes viewers on an immersive ride through jaw-dropping decadence to discover which mysterious historical figures ultimately spent the most on their obsessions. The season just wrapped up, but you can catch it on-demand.
3. As the voice talent in the media project, were there any technical or performance challenges during this voiceover recording session?
There were no technical challenges to speak of. As voice actors, we are all used to doing remote sessions, so that part was easy. The challenge came in the form of performance…mainly because each session was 2 hours that were used to record multiple options for the production team. That's a long time for a guy who is used to short-form projects. Most of my commercial sessions only last 30 minutes to an hour…and if it's promo, it could be as short as 5 minutes. I have much respect for audiobook narrators.
4. Is this project's category of voiceover work something you do a lot or do you have another voiceover specialty?
No, it isn't. I've only narrated one other series which was for National Geographic titled Man Woman Dog. I generally do commercials, promo and corporate narration. You can currently hear me voicing the Disney 50th Anniversary and Farxiga pharmaceutical campaigns. I also do quite a bit of sports promo including the NFL, NBA and WWE (Beware of the Smackdown, Brother!…say that in your best wrestler voice). The beauty of voice over is that no two days are ever the same. After nearly 15 years in the business, I'm still loving it.
ABOUT DARRELL BROWN
Darrell Brown is an African American male voice over talent specializing in commercials, narration, promo and movie trailers. He delivers smooth, rich, engaging sounds for clients such as Google, McDonald's, Toyota and many others. Since 2008, this veteran voice actor has helped brands all over the world to tell their story and reach general and urban audiences through TV, radio and internet. Whether it be commercial, narration, promo or trailers, Darrell will bring your story to life.